May 23, 2023
Transitioning from Military Service to Trucking: A Roadmap for Veterans
Have you recently completed your military service? Looking for a new career that values your skills and experience? Hear us out, a career as a truck driver just might be the right fit. See our roadmap for veterans who are transitioning.

Many trucking companies, including CRST, actively recruit veterans for truck driving jobs, recognizing the valuable skills and discipline that military service provides.

If you're curious about a career in trucking but still aren't quite sure if this the right choice for you, don't stress, we're here to help you navigate what the transition from military service to a career in trucking, would look like, let's get started with our roadmap for veterans!


Leverage your military experience
As a veteran truck driver, your military experience supplies a solid foundation for a successful career in trucking. Skills like discipline, attention to detail, adaptability, and teamwork translate well to truck driving for veterans. As you begin your transition, be sure to highlight these skills on your resume and in interviews to show your readiness for the job.


Obtain necessary truck driving certifications
To become a truck driver, you'll need to become familiar with truck driving rules, laws and terminology, so you'll need to obtain a Commercial Driver's License (CDL). Many trucking companies, including CRST, offer training programs that help veterans obtain their CDL. CRST's 4-week CDL training will prepare you to take on the open road. After you get your CDL-A, a driver mentor will be there to guide you with continued on-the-job support.


Tap into online job searching resources for military veterans
There are many resources available to help veterans find trucking jobs. Websites like Hire Our Heroes and Military.com offer job boards specifically for veterans seeking employment. Additionally, many trucking companies, such as CRST, have dedicated programs and support systems to help veterans transition into the industry. Take advantage of these resources to find trucking jobs for veterans and get your new career on the fast track.


Network with other veteran truck drivers
Networking is crucial in any industry, and trucking is no exception. Reach out to other veteran truck drivers for advice, mentorship, and job leads. Connecting with fellow veterans who have successfully transitioned to a trucking career can supply valuable insights, support, and encouragement during your job search.


Explore, and compare, the benefits of working for a veteran-friendly trucking company
When searching for truck driving jobs for military veterans, consider companies that actively support and value veterans. CRST, for example, offers a variety of benefits specifically tailored to veterans, including paid training, tuition reimbursement, and the opportunity to use your GI Bill benefits while you train. On average, a 4-year enlistment can pay up to $84,000/year starting out. Additionally, CRST's Patriot Fleet program honors veterans with specially designed trucks that feature military-inspired designs.

Transitioning from military service to a career in trucking is a path that many veterans have successfully navigated. Like the military, trucking can be a very patriotic job, since truckers help keep America running day-to-day. We know the value our veterans bring to the team – commitment, determination, sense of duty, and an all-round team player. In return, we make sure you get excellent pay, great benefits and a team that supports you.

By using your military experience and obtaining the necessary certifications you can find a fulfilling and rewarding new career in the trucking industry. So, gear up, fellow veterans, and get ready to hit the open road – there's a bright future in trucking waiting for you! Interested in driving with CRST? Visit CRST's veterans page for job openings, training opportunities, benefits, and more!
Recent Post
---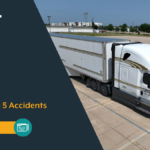 ---
---
---
---