October 01, 2021
Military Veterans – We Need You!
Leadership. Commitment. Integrity. Veterans exemplify these strengths. CRST is proud to welcome and support active military, reservists, and honorably discharged veterans.
Did you know that more than 80 percent of communities nationwide depend on trucks to move goods? * That means careers in logistics and transportation will continue to be in demand—and your skillset is more valuable than ever. Your work ethic and adaptability will help CRST deliver on its customer promises. In turn, you can enjoy a rewarding career with a well-respected company.
You deserve to work for an employer who cares. Here are the top 10 reasons why CRST is the right choice for veterans:
1. Learn more about our company from someone who understands your journey.
Our military-veteran recruiters will give you the attention you deserve during the hiring process. Our goal is to help you succeed at every stage of your career.
2. Your service matters.
CRST offers industry-leading perks for our military veterans.
Use your GI Bill to pay for CDL school – We partner with VA-accredited schools that accept the GI Bill benefits.
$500 sign on bonus – That's in addition to other eligible CRST bonuses.
Military Service Credit – Translates your service into higher starting pay.
VA and DoL-accredited apprenticeship program for veterans who are new to the industry – Receive monthly payments as you gain experience.
3. Guaranteed home time for drill.
We're happy to accommodate home-time requests for National Guard and Reserve commitments.
4. Receive an excellent benefits package.
Enjoy affordable medical, dental, and life insurance; 401(k) with competitive match; and earn time off for each week on the road.
5. Drive state-of-the-art equipment.
Our high-tech fleet of trucks offer safety and comfort for your travels. You can also experience the pride of ownership through CRST's lease-purchase program.
6. Explore the country.
You're no stranger to travel and adventure. See the country while enjoying flexible service offerings and home-time options
7. Start your career now.
Take time to consider your options and earn some cash before starting school if you choose.
8. Support animals are welcome.
No matter the reason, we stand behind your need to travel with an emotional support animal (ESA).
9. Continue to build your leadership qualities.
Share and grow your unique skills while delivering essential goods that keep America moving.
10. Your strengths and experience are welcome.
CRST values the skills you've earned, from discipline to planning to team building. Your skill set also makes you an ideal fit for supervisory positions.
We'd love to talk with you about the many opportunities at CRST, and would be proud to have you join our team.
*American Trucking Associations
Recent Post
---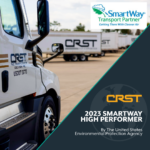 ---
---
---
---