July 26, 2022
Military Vets: We Want You!
Benefits of Working for CRST as a Military Vet
Integrity. Grit. Dedication. Bravery. These are all admirable traits our U.S. veterans possess. At CRST, we have the utmost respect for our military, and military vets, which is why we provide veterans with their very own career program – and benefits.
Veterans, your work-ethic, and adaptability will make transitioning to a trucking career a breeze all while helping CRST deliver on its customer promises. Demand of truck drivers has seen a massive increase over the last few years, so we need you now more than ever.
After years of serving our country and protecting our freedoms, you deserve to work for a company that cares for you. Our military-veteran recruiters will give you the attention you deserve during the hiring process and will continue to work with you after onboarding to make sure you succeed every step of the way.
State-of-the-art equipment
Our veteran drivers get to drive state-of-the-art equipment, our high-tech fleet of trucks offer safety and comfort for your travels. You can also experience the pride of ownership through CRST's lease-purchase program.
Support animals are welcome
We understand some veterans need to travel with support animals; we will stand by your need to travel with emotional support animals.
Guaranteed home time for military commitments
We're incredibly thankful for all military members' service, no matter the branch. That's why we're happy to accommodate home-time requests for National Guard and Reserve commitments.
We've got your benefits covered
Affordable medical, dental, and life insurance; 401(k) with competitive match; and earned time off are all musts for our drivers. So, let our generous benefits take care of you and yours!
Exclusive military perks
Not only do we want to provide military members comprehensive benefits, but we also want to go above and beyond for our military vets. Here are a few of the exclusive military perks you can partake in through CRST:
Use your GI Bill to pay for CDL school – We partner with VA-accredited schools that accept the GI Bill benefits.
$500 sign-on bonus – That's in addition to other eligible CRST bonuses.
Military Service Credit – This will translate your years of service into higher starting pay.
VA and DoL-accredited apprenticeship program for veterans who are new to the industry – Receive monthly payments as you gain experience.
Your strengths and experience are admired
CRST values the unique set of skills you've earned. From discipline to team building, your skillset makes you an ideal fit for supervisory positions. We'd love to talk with you about the many opportunities at CRST and would be proud to have you as a part of our team.
We believe in doing more than giving our truckers a job that pays well. We believe in taking care of our team by providing a variety of truck driving career options and routes to choose from, so take a look and contact us to start your trucking career!
Recent Post
---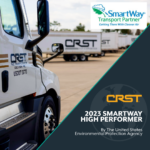 ---
---
---
---