January 06, 2022
A Rising Demand for Trucking | How CRST Dedicated is Meeting the Moment
It's no secret that the rising demand for trucking has shot through the roof over the last year and a half. With COVID lockdowns and online shopping at everyone's fingertips the need for transportation of goods to and from facilities all across the nation is urgent.
Last summer, when the economy made an upturn following the end of worldwide lockdowns, demand surged for truckers. Manufacturers and retailers alike were rushing to restock inventory on depleted inventories related to the pandemic and the demand hasn't let up since. Despite the rising demand, trucking companies across the nation are facing the challenge of hiring and retaining enough workers. The Great Resignation is a phenomenon that's hit just about every industry, but with trucking being in such high demand it's been a particularly large pain point for the trucking industry, which is why we are meeting the moment by providing our truckers with the generous incentives and resources.
We've created comprehensive training programs
Our training programs are top notch and in-depth, ensuring all drivers are provided the education and hand-on experience they need to take on the open road. In fact, our Life of a Student Driver video series explains the training process in detail, providing all of the information you need to begin a trucking career with one of the most successful carriers in the country.
We provide truckers with great pay and benefits
At CRST Dedicated we value our drivers, which is why we provide them with excellent pay and an array of benefits. Here's a list of the key benefits we offer our drivers:
Guaranteed home time
401k retirement
Heath insurance
Life insurance
Dental insurance
We provide a special career program for military veterans
Our military veteran recruitment team provides veterans the attention they deserve during the hiring process, in addition we offer excellent incentives specifically for vets.
Here are some of the industry-leading perks CRST offers military veterans:
Use your GI Bill to pay for CDL school – We partner with VA-accredited schools that accept the GI Bill benefits.
$500 sign on bonus – That's in addition to other eligible CRST bonuses.
Military Service Credit – Translates your service into higher starting pay.
VA and DoL-accredited apprenticeship program for veterans who are new to the industry – Receive monthly payments as you gain experience.
Already a driver? We offer referral incentives
Recent Post
---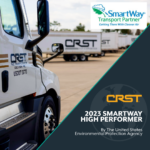 ---
---
---
---