May 31, 2022
Women in Trucking – Meet Whitney
Speaking with Whitney White from her Texas hotel room, 950 miles away from her CRST replacement truck, it was immediately clear she overcomes whatever the road throws her way. This particular evening found her sidelined by a backordered Freightliner one box, her truck out of service.
This inconvenience is nothing a rental car and a long drive to Cedar Rapids can't fix. The biggest difficulty Whitney has had to face in her driving career is the tragic loss of her husband and business partner, Gary. It was Gary who introduced her to trucking and trained her to be the driver she is today.
"We had pulled over outside of Denver to check the weather and Gary suddenly showed stroke symptoms. He was medivacked to a Denver hospital and passed away three months later. It's been an adjustment to be on my own. At first, I was scared to death to drive by myself, but I didn't think he would want me to let go of our business."
"I was trained by the best. Gary was an old-school, all-or-nothing driver. I hope I can come close to living up to that level of passion."
Whitney leans on her CRST family as she grieves. "I don't feel alone in my loss. CRST has my back. They've been so supportive, giving me the time I need to heal."
Ben Lizer, CRST Operations Director agrees. "We grieved with Whitney — we were very close with her and Gary. In this tragedy, Whitney shows her true strength. She took over their business, continued rolling, and keeps the bar high."
Next up for Whitney is taking on a mentorship role. She plans to impart all Gary shared with her to the next generation of truck drivers.
"Mentoring will be strange since I've never driven with anyone but my husband. If I can impart one-quarter of what Gary taught me, it will be wonderful."
For Whitney, teaching safety to her mentees will be first priority. "Learning trucking is more than just getting your license. It's being trained to watch ten things at one time. It's being kind and courteous, caring about everyone on the road, and not just making the dollar."
Whitney White has been with CRST for nearly four years and logged close to 200,000 safe miles. Her career total is 1.5 million miles, driving each of the lower 48 states without a single accident or ticket.
According to Marge Davis, Senior Driver Manager, Whitney is the definition of a strong woman.
"Whitney is on time, always at work, and takes care of her equipment. This past year has had its challenges as she grieved the loss of her husband and co-driver, Gary. I'm proud to have her on our team."
"I'm passionate about safety," says Whitney. "It's why I've decided to start mentoring as my next career step. I want to teach the next generation of drivers to take a breath and back off when it's called for rather than put everyone else on the road in a bind."
"Learning trucking is more than just getting your license. It's being trained to watch ten things at one time. It's being kind and courteous, caring about everyone on the road, and not just making the dollar."
You're a model of strength and leadership, Whitney! CRST appreciates you and your dedication. Learn more about Women in Trucking: www.crst.com/women-in-trucking
Recent Post
---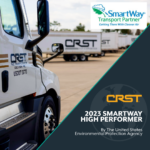 ---
---
---
---