June 29, 2022
Where Will I Sleep?
Finding Open Rest Stops Has Become a New Challenge for Truckers
Every job has its own set of challenges but what if one of those challenges affects your ability to even do your job in the first place, like "where will I sleep"? That's the problem a lot of truckers are currently facing as rest stops are overcrowding, lacking space for truckers to park, rest, and sleep.
Truck stops across the nation are full
Truckers from California to Maine are struggling to find open spots at rest stops to park their trucks – and that's assuming the rest stops are even open. Many rest stops have faced recent closures due to staffing shortages or maintenance issues.
With the rise in demand for truckers over the last couple of years, it only makes sense to assume there are more truckers on the road than in years past. Unfortunately, rest stops haven't been able to accommodate the larger influx of drivers.
Not enough rest stops pose a safety risk for truckers
When there aren't enough truck stops with open rest areas for truck drivers, truckers are left to park on the side of the road; posing a safety risk for the trucker and any other drivers that may pass them.
Another safety concern is the lack of rest this is causing truckers. If you are circling truck stop after truck stop looking for a place to park to no avail, you're not getting the rest needed after a long day of driving, causing truckers to be more prone to accidents while on the road.
Truckers are trying to create change
Many truckers are taking it upon themselves to address this problem by working with local lawmakers with hopes to pass bills requiring truck stops to stay open more often and to push their local D.O.T.s to create more truck stops to accommodate the need for more rest areas.
Parking ranks fifth in the American Transportation Research Institute's list of critical issues in trucking, however, for drivers specifically, that issue ranks number one.
Loves Truck Stop has plans for expansion; new parking technology is in the works
On the bright side, some change is happening. At the beginning of 2022, Love's Travel Stops announced plans to add 40 locations and 3,000 parking spaces for trucks in 2022.
"Love's continues to add amenities and services that serve its core customer, the professional truck driver. The company realizes the need for more parking spaces for drivers, and it will continue to add spots to new and existing locations to meet that need," a Love's Rep said in a statement.
In addition to Love's adding more stops, a new piece of technology is in the works to help drivers locate open rest stops with ease. TPAS, or Truck Parking Availability System, is a technology solution being introduced by state departments in California, Arizona, New Mexico, and Texas.
TPAS will, "detect, monitor, and provide necessary information about empty rest spots in real-time. However, their launch date isn't slated until 2023.
Keep on trucking
Times are tough for a lot of us right now, but we're resilient, we'll keep on truckin'. At CRST Dedicated we pride ourselves on the fact that we offer the following incentives to our truckers:
Competitive pay
Great Incentives such as a 401k, health insurance, dental insurance, and life insurance
Dedicated, consistent routes with regular home time
Training and Orientation opportunities
Veteran's incentives that include higher starting pay for proven military experience
Interested in driving with CRST Dedicated? Speak to a Recruiter! CALL 866-271-1054!
Recent Post
---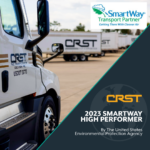 ---
---
---
---