June 03, 2019
Considering a Trucking Career? Here's What to Expect
You might've heard we're in the midst of a serious trucker shortage. Well, we are. So, what does this mean for your trucking job, or better yet, your trucking career in the long haul?
It's safe to say there's not a ton of down sides. Our country will always need truckers. In fact, according to the American Trucking Association it takes 3.5 million truckers to transport the freight necessary for the economy to continue to thrive. In other words, there has never been a better time to join this booming industry.
If you're just starting to look into a trucking career, here's what to expect
Before you start applying for all those trucking jobs, here's some requirements you need to meet. If you've just been hired as a trucker, check out our new truck driver tips blog.
Medical qualifications
There are some medical conditions that will make it impossible for you to safely handle truck driving. Check with a medical professional certified by the Department of Transportation to determine if your health condition would be a concern for someone driving long distances.
No loss of foot, leg, hand, or arm.
visual acuity needs to be at least 20/40 (with glasses or other correction) in each eye
No diagnosis of alcoholism
No mental, nervous, organic or functional disease of psychiatric disorder likely to interfere with operating a motor vehicle.
Training/License
If you don't already have your CDL, you must be able to pass the exam to get started on the road. Your CDL exam will include three portions: a road test, vehicle inspection and a backing test.
You also must provide your driving history with your regular driver's license before you obtain your CDL. Each state has guidelines on how many violations you are allowed before you are ineligible for a CDL. Each trucking company can also have their own set of qualifications. To see if you qualify, contact us. In general here's a few of the major qualifications that must be met:
You must be at least 21 years old.
You must pass a D.M.V./D.O.T. (Dept. of Transportation) physical and a pre-employment drug screening.
You must have a good driving record and have been licensed in the United States for a minimum of 1 ½ years out of the last 3 YEARS.
No DUI or DWI violations in the last 5 years. No more than 1 DUI in the last 15 years and no more than 2 DUIs in your lifetime.
No open container violations in the last 3 years.
All criminal convictions are reviewed on a case-by-case basis and are all reviewed by management.
All in all, the qualifications aren't that difficult to meet, just as long as you're willing to work hard and commit yourself to your new career path, you'll be alright.
Ready to join a thriving career field and start earning? Get started with your career at CRST Dedicated today!
Recent Post
---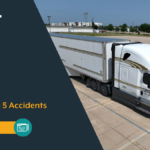 ---
---
---
---