December 12, 2018
Staying for the Long Haul: Benefits of Long-Term Employment with the Same Trucking Company
After working with the same company for a few years, you can start to feel restless; you might feel like changing up your routine or trying something new. In fact, according to a recent article from Transport Topics, driver turnover has been projected to hit the highest annual rate in over 5 years. Not only is driver turnover costly to the company, it's hard on the drivers, too.  Although the idea of trying out a different trucking company may seem appealing, there's quite a few benefits to staying long-term with the company you're already familiar with.
Better relationships, seniority.
When you stick with the same company, you're able to get to know your co-workers on a deeper level, which will create better relationships. Being able to really know and understand the people you work with helps make your job easier in the long run. You'll learn how to best communicate with your co-workers and will feel more comfortable expressing your thoughts, ideas and needs within the workplace.
Not to mention, moving onto a different company can lead to a loss in seniority. In the trucking industry seniority often leads to better routes, better pay and more home time.
Less paperwork, stability.
If you do decide to change employers you're going to basically start all over again; that includes filling out tons of paperwork. You'll need to fill out new w-9s, health insurance and direct deposit paperwork with the new company. Not to mention you'll have to roll over your retirement funds from the previous employer to the new one; that's assuming your new employer even provides retirement funds, such as a 401k, through their company.
Plus, there may be a waiting period before your new health insurance takes effect. You'll will have to possibly change doctors, adjust appointments and get new prescriptions with any job change.
If you stick with the same company, you're avoiding all of this. You're able to take the smooth route on the open road instead of taking a detour on an unpredictable, bumpy backroad.
Job Hopping Creates Skepticism
If you're someone who is constantly on the lookout for what may be the next best thing, you might want to slow down. If your resume lists a multitude of trucking companies you've worked for in a short time span, potential employers will begin to think you're unreliable and flaky, leaving you with no job prospects at all.
When it comes down to it, there's a ton of benefits that are associated with sticking with your current trucking company long-term. Most companies value employees that are hard-working and loyal. At CRST, we value just that. Starting out, drivers can expect trucking jobs with guaranteed home time, great pay, health insurance and retirement benefits. But if you stick with us, you get a say in what routes you drive. Not to mention, the more experience you have, the more money you make.
Recent Post
---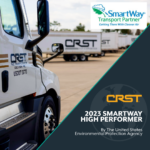 ---
---
---
---