August 22, 2023
Stopping Cargo Theft: Best Practices for the Truck Driver
Cargo theft isn't going away any time soon. While we last reported in April 2023 that cargo theft saw an estimated 20% jump in 2022 alone, that number continues to grow. In the first 20 weeks of 2023, there have been more than 900 reports of theft, fraud and other kinds of criminal activity in the supply chain. That's a 41% increase from 2022.
Commercial Carrier Journal adds, "Since November, CargoNet has been tracking a sharp rise in highly technical shipment misdirection fraud schemes across the country. Fictitious pickup and fraud complaints are 675% higher in the first 20 weeks of 2023 compared to the first 20 weeks of 2022." This includes trailer burglary, full trailer theft activity in the eastern half of the U.S., and misdirection fraud in California.
What can a trucking company—and trucker—do to help take a dent out of cargo theft?
More Best Practices for Securing Cargo
Consider these tips from the National Insurance Crime Bureau (NICB). You'll also find additional trucking safety tips in our blog, Preventing Cargo Theft.
Trucking Companies:
Screen all employees, including drivers, warehouse employees, and those with access to shipping information. Did you know that many cargo thefts involve inside information or complicity?
Educate truck drivers on hijack awareness and prevention.
Be smart in selecting transportation partners, ensuring they share your security philosophy.
Use technology:

Invest in vehicle immobilization technology to remotely disable a stolen vehicle until it's recovered. Use visibility technology to track cargo in real-time, helping prevent internal thefts and organized crime groups from taking over cargo.
Use geodata installed in trucks, trailers and load alerts that trigger when a vehicle arrives or leaves from a destination.

Include countersurveillance in the duties of your security guards.
Install alarm surveillance systems and respond to all alerts; ensure the perimeter, entrances, building doors and windows are well-lit.
Conduct audits of the supply chain and look for gaps in shipment protection.
Instruct your drivers to avoid stray gravel parking lots that have low visibility or are unpopulated.
Be open about your security. While it's not necessary to make all the details of your security public, let your employees and potential threats know shipments and storage spaces are being actively monitored.
Truckers:
Don't let your drop-off locations or truckload be known—keep them as secret as possible.
Keep a vigilant eye, especially when trucks and cargo are sitting idle.
Avoid stopping and staging cargo within the red zone, the area within 200 miles of the origin point that attracts high theft. If you must stop:

Monitor all stopping times and activity.
Maintain consistent communication throughout the stop.
Stop in a populated, well-lit area.

Watch for hot theft spots and know your supply chain.
Keep trucks locked and well-lit when parked.
When stopped, back to a wall or fence where possible to prevent opening the trailer doors.
CRST, one of the nation's largest privately held transportation companies, also advises, "When you're responsible for cargo, you must care for it responsibly. We can't stress enough the importance of being alert, well-rested, and well-prepared. With these tips and those in Preventing Cargo Theft. you can help fend off events before, during and after the drop-off."
Learn more about CRST.
Recent Post
---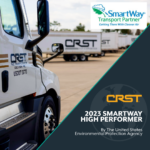 ---
---
---
---