April 11, 2023
Preventing Cargo Theft
In 2022 alone, cargo theft saw an estimated 20% jump, for a total loss of $223 million. Why the increase? CargoNet, a leading provider of theft prevention and recovery solutions, reports that we still see trailers stolen from the side of the road, but fraud is what drove our numbers up. Keith Lewis, vice president of operations at CargoNet, "It's very complicated how they're doing it. It's so complicated that law enforcement has a hard time figuring it out. They're using load boards, and they're using unsuspecting drivers."
Another jump in 2022 was in strategic theft, where thieves trick you into giving them the cargo. The culprits use fraud and misleading information to trick shippers, brokers, and carriers into providing the load to them instead of the legitimate carrier. Tactics include theft, fictitious pick-ups, double brokering scams and fraudulent carriers. Conversely, straight theft is where they physically steal the cargo where it sits, at truck stops, parking lots or drop yards. Unfortunately, theft has become part of truck driving life. So what can be done to reduce cargo theft? Travelers Insurance offers the following tactics.
For straight cargo theft, a layered approach to security should be taken by using good policies and procedures, such as:
Whenever possible, no unattended, loaded trailers, especially in high cargo theft areas.
Use high-security rear door locks and air cuff locks.
If it is unavoidable to stage/drop a load, consider installing landing gear locks as well.
For strategic cargo theft, companies must ensure consistent and thorough vetting practices of any carrier or broker they do business with.
Research contact information and company information thoroughly through FMSCA, Internet search engines, third-party vetting companies, and industry associations.
Work closely with shippers to confirm the identification of drivers at the point of pick-up, including driver information, identifying information on the truck and trailer being used, and the use of secure pick-up numbers.
Don't hesitate to contact your customers and business partners if there is even the slightest question at any point in these processes. Often the additional scrutiny will deter thieves from pursuing the load in question.
Strong cyber security can help recognize and prevent many cyberattacks that give thieves access to pick up and delivery information. Companies should closely examine their websites and the data available to the public.
Is contact information for critical people essential to show, or would a common contact be sufficient?
Are you identifying current customers or referencing specific products handled?
Lastly, companies should require drivers to complete walk-around inspections of their trucks after every stop to check trailer doors and seals to identify signs of theft. Using high-security rear door locks or even high-quality padlocks can deter theft. As theft becomes more sophisticated, trucking companies will need to up their security game to keep their trucks, delivery and personnel safe and secure.
Recent Post
---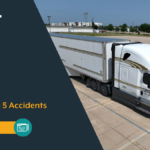 ---
---
---
---