April 30, 2021
Opportunities abound for older drivers
Have you been considering shifting gears in your career? If so, you're not alone. Opportunities abound for older truck drivers. Recent studies have shown that the pandemic has influenced many people to think about making a big life change.
But, if you're an older worker, maybe you're worried that it's too late to make a major career shift.
Don't count yourself out. Trucking may a viable career option, with flexible hours, a variety of routes and great pay.
Training and requirements are the same at any age
Every aspiring truck driver, no matter their age, must be able to meet the Department of Transportation's physical requirements — which includes a physical exam — and must be physically able to complete their job in a satisfactory manner.
So basically, physical health/ability and being a minimum of 21 years old are the only core requirements to get started. Otherwise, age isn't really a factor when it comes to opportunities for older truck drivers.
In fact, one of the reasons so many people are deciding to become professional truck drivers is that the industry offers many distinct advantages for drivers of any age.
So if you are curious, you owe it to yourself to look into driving with CRST, for a reliable, consistent and comfortable career change. Not to mention, if you drive dedicated for CRST, you get to enjoy benefits like a 401(k), health and dental insurance, life insurance, a referral program and excellent pay.
Recent Post
---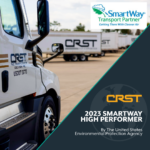 ---
---
---
---