December 05, 2022
I've Got an Interview with a Trucking Recruiter, Now What?
Questions to Ask While Talking to a Trucking Recruiter
Are you looking for your first trucking job? Or maybe you're just looking to switch to a company that suits your needs more. Regardless of the reason, you want to be sure any company you consider taking a job at is the right fit for you, and for them, so talk to a trucking recruiter. You don't want any unpleasant surprises to pop up after you've already taken the job.
Whether you're a seasoned truck driver, or you're just starting out, there are bound to be surprises during your trucking career journey. Have you ever hit a roadblock after starting a new trucking job and wondered why our trucking recruiter didn't tell you about that?
Trucking recruiters are paid to get much-needed drivers to sign up with the company they represent. If you have a specific concern or question, it's up to you to make sure you ask. What a recruiter thinks is important may or may not always align with what you want to know. That means an interview with a recruiter is a chance for you to ask questions too, not just the other way around.
Check out these helpful questions you can ask while talking with a trucking recruiter:
What Sort of a Driver Are You Looking For?
We don't mean whether you drive fast, slow, reactively, or methodically. What we mean is, what personality type is the company you are looking for? Outgoing? Punctual? Friendly? It's important that your personality doesn't clash with other team members or with the people you'll be working with at the pickup or drop off locations as well.
What Truck Driving Routes Are Best for Me?
The answer to this will vary, different routes work best for different people based on where they are in life. If you're looking for time with your family, a dedicated route might be best. A good question to ask your recruiter is how much experience do I need before I can take over a dedicated route with guaranteed home time? Are newbies eligible?
Another question is whether your routes are "no touch" loads or if unloading is involved? If there is unloading required, is there additional pay for that?
What's the Actual Guaranteed Home Time?
Some companies, especially those with dedicated routes, offer "guaranteed home time." But what exactly does that mean? Ask, because different companies define the term differently. It could be daily, weekly or somewhere in-between, depending on the route.
What Does the Company's Safety Record Look Like?
Truckers with experience on the road know safety is important. But, do you know what the company's policy on safety is? How many miles do they usually put on a truck before they pull it from the fleet? What's the average age of the company's trucks? If you're behind the wheel, the age of a vehicle matters.
What Do Pay Structure and Benefits Look Like?
Pay and benefits are two important factors in looking for trucking jobs, along with home time. So be sure to ask all the right questions when speaking with your recruiter:
What medical and dental plans are offered? How much will it cost to add your family or pay your share of the premium? Those things factor into whether it's a job that will be good for you.
Another important question worth asking is what retirement accounts the company provides for employees. Most have a 401k but ask how much the company matches. And how long do you have to work for them before you're fully vested?
Make sure you understand their pay periods and methods so you can bridge any pay gap between jobs. Do they make electronic pay deposits and if so, will they cost you a fee? Other good questions are whether you'll be paid per mile or by a flat fee. Is there any company history you can get when you might be eligible for raises?
Are There Any Other Perks I Should Know About?
Don't forget to ask about any additional perks. This could be anything from allowing you to truck with a dog, discounts on specific restaurants or meals, free trucking classes, newer models of semi-trucks, and so-on-and-so-forth.
Be Ready When a Recruiter Calls
Sometimes people expect recruiters to ask all the questions, but it's a two-way street, don't forget to make a list of questions YOU need to know the answers to as well. It's really a time for you to ask about parts of the job that are most important to you. Be ready when the recruiter calls. Get a name and number so you can call back if additional questions come up.
Recent Post
---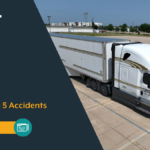 ---
---
---
---