November 07, 2023
Honoring our Veterans on November 11th
Serving and protecting our country is a great honor. We are honoring our veterans today by saying thank you. On Monday, November 11th, celebrations will be held to honor and thank all who served in the United States Armed Forces, including parades and ceremonies at military exhibits. That national celebration at Arlington National Cemetery starts with a wreath laying at the Tomb of the Unknowns. It continues inside the Memorial Amphitheater with a parade of colors by Veterans' organizations and remarks from dignitaries.
How did Veterans Day come to be? After the signing of an armistice between the Allied nations and Germany—a truce to stop fighting for a certain time—in the Great War (World War I), President Wilson proclaimed November 11th as the first commemoration of Armistice Day with the following words: "To us in America, the reflections of Armistice Day will be filled with solemn pride in the heroism of those who died in the country's service and with gratitude for the victory, both because of the thing from which it has freed us and because of the opportunity it has given America to show her sympathy with peace and justice in the councils of the nations…"
In 1938, an Act made the 11th of November each year a legal holiday. "A day to be dedicated to the cause of world peace and to be after that celebrated and known as "Armistice Day." Although primarily a day set aside to honor Veterans of World War I, it continued as a day to show respect for all Veterans.
CRST joins the country in honoring those who have served on Veterans Day and daily with opportunities in our company. We offer Veteran packages with nationwide options—including a $500 military sign-on bonus, a VA apprenticeship program for drivers with less than 12 months experience, tuition reimbursement even if you use the GI Bill®, military service pay credit, which increases your starting pay based on your time in service, and more!
The truck driving life can be an excellent way for Veterans to enjoy a fulfilling career after service to our country. It can pay off for Veterans. An average four-year enlistment pays up to $84,000/year. And we guarantee home time, or we pay you. Veterans bring commitment, determination and a sense of duty to the job. We want to return the favor with excellent pay, great benefits, and a team that supports you.
Recent Post
---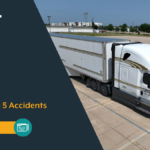 ---
---
---
---