September 03, 2021
Women in Trucking Spotlight – Sibling Success
Bonding with your co-worker is helpful when driving Teams. For CRST drivers Blenda and Kenda Blair, that bond is unbreakable. You see, they aren't just siblings; these veteran drivers are also twins!
The pair began driving for CRST in November 2009. "We're free spirits and just thought it would be a fun career," explained Kenda. A dozen years later, they are still enjoying their time in the driver's seat. Each woman has logged more than 1.1 million safe miles for CRST Dedicated East.
The team hauls Caterpillar parts from Waco, TX, to Arvin, CA, twice a week, which provides a healthy work-life balance. Blenda and Kenda enjoy home time on their farm in Springtown, TX, just a few miles up the road from Ft. Worth. They have raised horses and goats but now focus on cutting and bailing coastal hay.
Senior Driver Manager, Craig Mason, says this team shows the same commitment on the road as on their farm. "They get everything done on time and done right. I'm lucky to be able to work with them. They keep our customers satisfied, which makes my job easier," said Craig.
It's no small feat to reach a million safe miles. These sensational sibs are proof that anything is possible with hard work and a great team. "I'm proud to work alongside this team," explains Danielle Ott, Manager of Operations. "They understand the customer's requirements for safety and on-time performance—and that's just what they deliver."
As for exceeding the million safe-mile mark, "It's unbelievable," said Blenda. "CRST goes out of their way to help us and that's why we've never driven for anyone else."
We're fortunate to have you on our team, Blenda and Kenda! Thank you both and to each of our drivers for your service.
Recent Post
---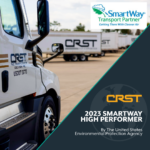 ---
---
---
---