July 16, 2021
Women in Trucking Spotlight – Jan Wesby
Jan Wesby sets the bar high for safety and a whole lot more. The 24-year CRST Independent Contractor is devoted to the company and helping others succeed.
Over the course of her career, Jan has logged more than 1.3 million safe miles. Fortunately for CRST, this professional driver is also a role model.
Jan has mentored more than 250 CRST students and always goes above and beyond for new drivers, staff, and anyone who needs it. "If students have trouble understanding something, she is more than willing to explain it to them," says Driver Payroll Specialist, Terry Lown. "She gives students her phone number so she can answer any questions they have."
Jan's positive outlook is one of her best traits. "I'm amazed that someone who has done OTR for so long has such a great attitude. It's truly inspiring," said TJ Hildreth, Sr. Fleet Manager for Independent Contractors. "Jan's always upbeat—even when the chips are down. She's a living reminder: if you love what you do, you'll never work a day in your life."
So, what inspires Jan to continue down this successful career path? "I'm a people person, so I want to teach others how to drive and be safe. I tell my students and other drivers to never be in a hurry. If you feel tired, pull over. We both have a family to go home to."
Jan says driving for CRST has been the best time of her life. "CRST is like family. They put you first and that's what matters to me."
Thanks for sharing your talents, Jan! You're a shining example of commitment and positivity.
Learn more about CRST's support of Women in Trucking at crst.com/women-in-trucking.
Recent Post
---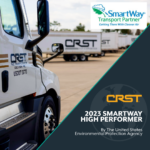 ---
---
---
---