September 28, 2022
Women in Trucking – Owning It With Michelle Taylor
Michelle Taylor joined CRST — and her husband, Dean — as a Teams Driver after a 29-year career in healthcare.
"I was burned out as a CNA — I just couldn't do it anymore and needed a change. If you'd told me back then I'd be a truck driver, I wouldn't have believed you. But I went to CRST's school in 2017. I've been driving with my husband ever since and love it!"
"Driving is freedom. Since we've leased our truck, we're pretty much self-sufficient. We choose our loads, schedule, routes, and home time. We choose our income."
Today, Michelle and her husband are in the last year of leasing the Freightliner, affectionately known as Charlene. As a CRST Lease-Purchase driver, Michelle has discovered not only a life she loves, but also a fresh drive to build a business and a future.
"I used to be timid and afraid. My driving career has impacted my personality by giving me confidence. New motivation helped me research how to best get my CDL, set goals, and push myself to do more. Now, I plan to lease more trucks and hire other drivers. As a Lease-Purchase Driver, I can be as financially secure as I want to be. I never knew it was possible for me to go from making $40,000 a year as a CNA to making a six-figure income. Whatever your goals, if you want it, you can do it."
"We decided on CRST because I could get my CDL and then drive with my husband if he moved here with me. It wasn't easy — I had to overcome health and family issues that got in the way of orientation. I got a speeding ticket on my way to my first CDL class and had to postpone until I could clear that up. But I didn't give up and I made it."
"CRST has been very supportive as we moved up into Lease-Purchasing. We own the truck and they provide protection and maintenance. It's nice because they have terminals everywhere."
Through researching opportunities, Michelle has found being a woman in what's known as a man's industry works to her advantage.
"Since women are a small minority in Transportation's male-dominated industry, woman drivers as small business owners are eligible for grants, loans, and funding that men don't have access to."
Ben Lizer, CRST Operations Director, concurs with the potential for women drivers that Michelle has tapped into. "Michelle embodies the opportunities this industry offers for women drivers. Her business generates hundreds of thousands in revenue per year. Stories like hers help grow the overall presence of women in trucking. She's an inspiration!"
Much of Michelle's enthusiasm for her career comes from finding a compatible partner and driving as a team.
"My husband and I work well together because we're both chill. My husband's a phenomenal driver and we just really enjoy each other. Even on our weeks off we do everything together, whether it's family, errands, or home projects."
Michelle's Pro Tips for Teaming:
Working as a team driver opens doors to higher pay and career advancement
Driving as part of a team isn't for everyone — you and your partner will share a small space and many hats
Find a partner who's mature and has the humility to know there are things they don't know
Choose a partner who shares compatible lifestyles and personality traits. Are you both smokers or non-smokers? Do you like your cab messy or ready to pass a white glove test? Are your personalities Type-A or relaxed and go-with–the-flow?
Move on from disagreements
Don't get upset about little things or allow resentment to build
You need to genuinely like one another to enjoy your journey
Keep a consistent sleep schedule
Take care of each another. Even if you have to wake your partner up, I don't go into rest areas alone
Michelle, you inspire other women and let them know that they can "Own It" as a woman in trucking. CRST appreciates you and your dedication.
Learn more about Women in Trucking: www.crst.com/women-in-trucking
Recent Post
---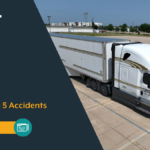 ---
---
---
---