October 07, 2021
Women in Trucking – Meet Ronnie
CRST is fortunate to have dedicated drivers who give their best to our company and customers. But what does it take to be successful year after year? We'll find out from standout driver—Veronica "Ronnie" Lee.
The 2020 Women in Trucking nominee and independent contractor drives a dedicated FedEx route for Expedited Solutions. Ronnie's journey to becoming a driver began 14 years ago. She was a stay-at-home mom while her husband, Donnel, was on the road for CRST. All that changed when the kids were grown. "I looked around and said, 'why am I sitting at home by myself?' CRST helped me get my license and that was it." Donnel served as Ronnie's driver mentor and the two have been together ever since—running more than three-million safe miles between them.
This experienced team has their routine down pat. "When you get up, it's time for you to go to work. When your time is over with, you go in the bunk," said Ronnie. "We have a cooler strapped in the front passenger seat. Whatever you need is in there and that way you don't have to bother the person in the bunk."
Ronnie has a convoy of CRST fans, starting with Driver Manager, Drew Freie. "Ronnie stands out for many reasons. She pays attention to detail and has a strong work ethic. I can count on this team to pick up a load on time and deliver it on time and as safe as possible," said Drew. "I never have to worry about them. They do an outstanding job for CRST."
Their stellar reputation is backed up by Ben Lizer, Director of Independent Contractors. "Ronnie sets the standard on what it means to be a great business partner. She sets the tone for being a successful female independent contractor. She is mentally tough and never cuts corners when it comes to safety."
Ronnie is tough and not afraid of a challenge. As a breast cancer survivor, she's grateful for every day. "I'm one of the lucky ones and am proud I survived," she added. During Breast Cancer Awareness month, we salute Ronnie and all employees who have faced their own battle with the disease.
How long will this successful team stay on the road? "As long as we can get in and out of the truck," Ronnie joked. "I get to travel and make money at the same time. I like to do things and this job enables me to do them. CRST has been good to me, so we're good to them."
You're a model of perseverance and positivity, Ronnie! CRST appreciates you and our entire driving team. Learn more about Women in Trucking: www.crst.com/women-in-trucking
Recent Post
---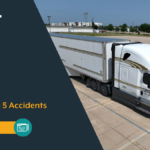 ---
---
---
---