June 24, 2022
Women in Trucking – Sharing the Joy in the Journey with Beth Goss
Whether working as a homeschool parent or reinventing herself as a CRST Expedited Truck Driver, Beth Goss keeps joy and gratitude central in her day to day.
"Even when things are frustrating, my job is so much fun. I love traveling this beautiful country — it's breathtaking. My keys to succeeding every single day are enjoying the journey, being thankful, and respecting the people I meet."
Once their three children had graduated, Beth's husband assumed she would go on to teach piano and voice lessons. She, on the other hand, wanted an adventure that pays well.
"Two years ago I didn't know a thing about trucks. After working as a recruiter, I knew that being in an office wasn't for me. I enjoy driving — when I discovered I could make a good living at it, I got my CDL. I've been having a blast ever since."
Her enthusiasm for truck driving shows in her work. According to Beth's Driver Manager, Taylor Fuller, "Beth is a pleasure to work with. She's an incredible driver and a constant performer."
Beth manages her work/life balance her own way, staying on the road a couple months straight. When she's home, enjoying one-on-one time with her husband, adult kids, and parents is priority.
Beth also serves as a Truck Driver Mentor.
"I was hesitant at first to become a Mentor. Then I realized I have a lot to give to the next generation of drivers. Mentoring is a great way to meet people — it's been fun so far."
Beth's Top Ten Mentoring Pointers:
Encourage your mentee to enjoy the process and take their time. They will get there.
Don't sweat the small stuff.
Be friends. If you can't, find another co-driver.
Recognize that personality conflicts happen. Confront issues professionally.
Give each other space — respect time alone with the curtain closed.
Model what it looks like to give 100% — some days are slow and others may take 650 or 700 miles.
Teach your mentee to take advantage of all the truck's bells and whistles.
Prepare your mentee for what your truck will do in different conditions.
Make sure equipment is safe and ready before you leave and before you hand it off to the next driver.
Insist on courtesy and respect for all drivers.
You're a breath of fresh air, Beth! CRST appreciates you and your dedication. Learn more about Women in Trucking: crst.com/women-in-trucking/
Recent Post
---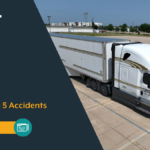 ---
---
---
---