May 07, 2018
CRST Woman Driver's Strength and Positivity Inspiration To Us All
All of us in the transportation industry can find inspiration in Lana Poveda's one-million-miles of accident-free driving.
What's perhaps even more inspiring is Lana's fun-loving, gentle and uplifting spirit—and her ability to always look on the bright side of life, even when facing one of life's greatest challenges. Lana was diagnosed with breast cancer last month.
"I had some unexpected home-time, so I squeezed in an appointment," said Lana. "I'm glad I did, as my type of breast cancer is hard to detect; and it was detected early. I'm optimistic, but I am also leaning a little harder on my partner in love and life these days."
In Lana's case, her partner in and outside the cab is her husband, Claude. "After many years together, we're still very much in love! It's nice being together on the road because we work better together as a team."
Now at their home in Palm Spring, Calif., the two are continuing to work together through Lana's treatment plan before returning to their favorite part of their careers as drivers—traveling to see the country.
Lana recalls driving through Oregon on I-84 where there was a sight of Elk grazing through a valley as far as she and her husband could see.
"It was the greatest, most beautiful and majestic thing I have ever seen," said Lana. "Driving is a 'lifestyle' job, but I love driving for CRST because I get to see the whole country and I never see the same things twice.  And, Lisa, our DM, is a big sweetheart—she makes working for CRST awesome."
According to Lana, CRST provides great support to women working in a male-dominated industry. "When I started there weren't a lot of women, but now there are so many," said Lana. "And, that's really inspiring to me, especially in my current situation. It's great to have other women out there to talk with, share tips and offer support and encouragement."
Through her positive interactions with women out on the road, Lana's helping to change the landscape for women in the industry.  "At the end of the day, you don't have to fit into a certain persona or gender to be a driver. It's about loving to drive and being an inspiration for all that want to enter this industry."
From all of us at CRST, we thank Lana for her years of service and for being an inspiration to us all. Your CRST family is by your fighting side, Lana and Claude!
Recent Post
---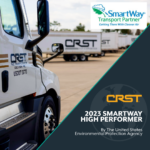 ---
---
---
---