March 14, 2023
What is Regional Trucking?
The trucking industry isn't one size fits all. In fact, there are several types of trucking that appeal to different drivers—one of which is regional trucking. But what is regional trucking exactly?
Regional trucking defined.
In regional trucking, truck drivers operate within a specific region that typically covers a few states or, roughly, a 1,000-mile radius." Typically, it's broken up into divisions like Northeast and Midwest and is mostly highway driving.
Here's how it works: you're out driving for a set amount of time with possible overnight stays along the way, then home for certain number of days. Regional trucking days usually coincide with weekends, which is a main appeal for this type of route over OTR (over the road), also known as long-haul trucking, which runs coast to coast.
Great pay, good hours.
Regional truck driving can be an attractive career choice, especially with CRST Dedicated Services, one of the largest asset-based, family-owned transportation companies in the nation. Our Regional Dedicated division offers regular home time, great pay and the operational support to get your job done as efficiently as possible. Plus the benefit of getting out to see other parts of your region you may not have visited before.
CRST is based in Cedar Rapids, Iowa, with regional trucking routes all over the nation for experienced CDL drivers. Some routes require just three months experience or less. We supply stability, great benefits, schedule consistency and competitive pay. The more experience you have, the more you make. Veterans can also turn their military driving experience into a higher pay rate. We also have an employee referral program, Roads 2 Riches, which pays cash for referrals that we hire.
Today, there are over 1,369,002 commercial truck drivers employed in the U.S. Learn how you can join our ranks on a regional route with CRST.
Learn more about career opportunities.
Recent Post
---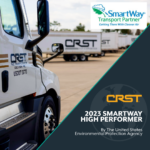 ---
---
---
---