October 04, 2019
Trucking Runs in the Family
Peggy Rivers' trucking roots run deep.
A resident of Rotan, Texas, Peggy has known trucking since she was a little girl on the family's cattle ranch. They had their own trucks to haul cattle. In 1967, her dad decided to go into the trucking business full time as a cattle hauler.
"At 10 or 11 years old, I was expected to participate in all areas, from dispatching to billing and bookkeeping — even as a parts-washer in our mechanic shop," Peggy said.
Peggy decided to stick with her roots. Nearly 20 years ago, she became an agent with CRST Malone Flatbed and a small fleet owner.
She and her husband, Brad, started their business, Two Rivers Inc., with lots of trucks and trailers, but with no truck yard in which to keep them.
Peggy's parents, who were still living on the family ranch, pitched in for a while — cutting fences and parking trucks and trailers all around their house, barn and pens.
"I ask you, what woman would want to look out their doors and windows and see nothing but silver trucks? My mom never complained, and my dad was in hog heaven," Peggy said.
Helping Others Succeed
With offices in Rotan and Alvarado, Texas, Peggy finds being an agent is a busy and enjoyable experience. Though challenging at times, she takes pride in helping contractors and employees succeed.
As an agent, Peggy is responsible for taking care of contractors' needs with CRST, whether it be booking loads, taking care of paperwork, managing inspections, solving problems with payroll or seeing to it that the contractors are profitable and satisfied.
For their customers, she is responsible for finding trucks to carry loads, meeting customers' needs and ensuring deliveries are satisfactory and timely. Peggy also looks out for her own employees, handling payroll, taxes and the everyday bills that keep her doors open and business successful.
"I'm surrounded by strong, dedicated, loyal employees and a host of professional contractors. Everyone takes pride in their work, making each day a pleasure to work in the trucking industry," Peggy said.
On a daily basis, she enjoys successfully satisfying her customers and contractors with a good balance of freight and making each one successful and happy with quality service.
"What I enjoy most working with CRST is the pride that most of our contractors show and a job well done for our customers," Peggy said.
Over 20 years in trucking, Peggy has seen both challenges and positive change for women in the industry. In her experience, there is much mutual respect among agents and contractors of both genders, and they have each other's backs.
While she believes times are changing for women in this field, Peggy also encourages women to be prepared, work hard, stay strong and never get discouraged.
"Stay firm in what you believe in, no matter how hard it gets, and always do the right thing," Peggy said, "and when you lay your head down at night, knowing the day is done, know you have given the best you had for everyone, including yourself. Have no regrets."
Peggy's husband now manages their ranch and cattle, while Peggy handles the agency. When she isn't busy farming or being an agent at CRST, her spare time is usually spent antiquing, boating or swimming, traveling to see family and friends, and enjoying their home in Abilene.
Recent Post
---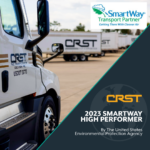 ---
---
---
---