January 29, 2021
Trucking during a pandemic: Keeping up
Keeping up with high demand while taking care of yourself when trucking during a pandemic. There's no denying truck drivers have been on the front lines during the pandemic, delivering essential goods from food and medical supplies to home goods — yep, even toilet paper.
Throughout the past year, there have been ebbs and flows in demand for some products, but essential goods were always needed. That means many truckers had their engines running regularly to keep up with demand. Your physical and mental well-being should be your top priority. Here are some helpful tips to stay healthy and safe on the road.
Do not touch fuel pumps with your bare hands — they're often the dirtiest areas of a truck stop. Always bring hand sanitizer with you, just in case, and make sure it contains at least 60% alcohol.
Many restaurants and fast food locations across the country are providing drivers with discounts and other offers. Take a look at this list to find restaurant discounts that apply to you.
Decrease the number of times you touch "shared" objects with your bare hands such as credit cards, pens, cups, clipboards, handles, ATM pads, etc. When you can, go digital or electronic as a form of payment.
Use a face covering (a mask, scarf or bandanna) and gloves when interacting with people along with practicing social distancing. Wash or disinfect your mask and gloves on a regular basis.
If you're interested in becoming a truck driver for CRST Dedicated or have questions about available dedicated routes, visit our jobs board to see what's open in your area. Then, call our CRST Dedicated recruiting hotline: (866) 325-2778.
Recent Post
---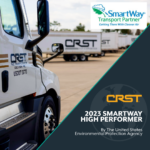 ---
---
---
---