October 17, 2023
Trucking Life on the Road: Tips for Good Mental Health
Let's face it—the trucking life is not easy. Yes, it can be gratifying, but it comes with challenges—hours, if not weeks, on the road alone, away from your family, facing tight deadlines, traffic congestion, and restless nights. This can affect good mental health and lead to loneliness, depression, fatigue and other issues. Fortunately, there's a lot you can do to help keep your mood up and your sad feelings down. Here are a few truck driver hacks.
Take a walk.
It sounds simple, but it is a powerful therapy for keeping the blues away. Take a walk for a few minutes. Make a point to look around, look up at the sky, far away, on the ground, to your left and right. Keep walking until you feel better. This is also an excellent way to eliminate exhaustion (assuming you've had enough sleep and you're exhausted for no reason). You may feel more exhausted initially, but walk through it until you feel better.
Get moving.
For good mental health, try to get in some exercise, whether it's a brisk walk, a jog, or even some strength training with weights. Check out your phone for exercise apps that you can download. Exercise releases hormones and endorphins that help alleviate feelings of depression. You'll also feel so much better after hours of sitting.
Listen to audiobooks and music.
Apps like Spotify, Pandora and SiriusXM can fill your day with music, comedy and even motivational or educational books that can make your day brighter and you are wiser. Check out the App Store or Google Play. Here's a little tip: Sing along with the music. Your mood will instantly boost! Also, check out novels, science fiction or historic page-turners with audiobooks. You can access thousands of titles through subscriptions on Amazon or for free through your local library app. Podcasts are also an excellent way to stay informed and entertained on the road. There are even trucking life podcasts at Drivewyze.com.
Stay connected with your family.
There's nothing more uplifting than hearing your kid's voice or speaking to your partner. It's often essential to stay in touch to ward off feelings of loneliness and isolation. When you take a break from driving, connect with a video chat or Facetime. Phone calls work, too! Also, keep photos or sentimental items that remind you of them on your dashboard!
Get enough good sleep.
Everything seems worse when you're tired, so avoid getting tired. Get good, quality sleep by avoiding caffeine after the late afternoon. Try to avoid being on your laptop or your phone toward bedtime. Experts say, "The blue light emitted by your cell phone screen restrains the production of melatonin, the hormone that controls your sleep-wake cycle (aka circadian rhythm). This makes it even more difficult to fall asleep and wake up the next day."
Eat well, not junk.
Food that's not good for you will also destroy your good mood. While eating right on the road is hard, giving it your best shot is essential. Eat fruits, veggies, burgers (without the bread or fries), chicken, and yogurt (avoid pre-sweetened brands). It's important to avoid sodas, candy and cakes because the sugar can make you instantly tired—and chances are, you won't feel very good about eating so badly.
There's so much you can do for good mental health and keep your spirits up while living the trucking life, whether on a short run or a long haul.
Recent Post
---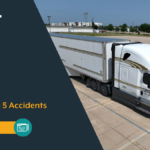 ---
---
---
---