September 05, 2018
Thank a Trucker: Celebrate National Truck Driver Appreciation Week
Trucking is an Integral Component of Our Nation
Trucking is the heart of the U.S. industry — just like the heart is a vital organ to the human body, trucking is a vital component of the U.S. economy.
Don't believe it? The trucking sector generates approximately 83.7% of revenue in the commercial transportation industry, which equates to about $726,000,000,000 in revenue to the American economy! Some of the goods transported include furniture, machinery, medical equipment, agricultural items, textiles and so much more.
Ever wonder what would happen if all of the trucks around the country stopped running? Within one day hospitals would begin to run out of basic, but essential, medical supplies; U.S. mail and package delivery would come to a halt; food shortages would begin to develop; assembly lines would come to a complete stop due to not having all of the proper manufacturing components, leaving thousands of people out of work.
It's safe to say, without trucking, it would be extremely difficult for the country as a whole to function. That's why it's important to take a step back and acknowledge the people who are responsible for transporting all of those goods to where they need to go in a timely and efficient manner. The week of September 9th is Trucker Appreciation Week and at CRST Dedicated we appreciate all that our drivers do. Not only do drivers transport vital goods all over the U.S., they do this during all hours of the day, spending time away from their families and friends — we truly cannot thank them enough.
Thank a Trucker
Working in the trucking industry certainly has its benefits. You get to enjoy taking on a new adventure each time you sit behind the wheel while admiring the beauty of the open road; truckers are not confined to a cubicle. Like any job though, it has its pros and cons, trucking can also lead to time spent away from home and families. This is why it's important to show your gratitude to all of the truckers out there. Need a few ideas on just how to do that?
Buy a trucker's lunch
Recognize their hard work on social media
Give them a gift, travel items could be especially useful
Send a meaningful, hand-written thank you card
Go Beyond One Week
The most important thing you can do, is be sure to let your drivers know how much you appreciate what they do as often as possible. It can be as simple as saying, "thank you" or "good work." You can also show your appreciation by making sure they are treated like the professionals they are. Take their wants and needs into consideration.
CRST Dedicated is committed to ensuring both our customers, and drivers, are happy.
Some of the benefits of working for CRST Dedicated include:
High paying trucking jobs
Guaranteed home time
Schedule consistency
Health insurance
Retirement benefits
A wide variety of opportunities for Class A CDL drivers
Interested in joining the CRST Dedicated team? Contact us today to learn more or view our current openings or read the below information regarding employment with CRST Dedicated and hit the "apply now" button.
Recent Post
---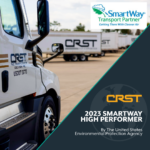 ---
---
---
---