August 02, 2021
Teams Success Story – Beth & Tim
Beth Baker and Tim Huffman have been driving for nine years with CRST Dedicated East. This husband-wife duo has created an ideal work relationship to get the job done—and done right!
The couple has a lot in common, starting with their history of driver mentoring. Beth and Tim have trained dozens of students over the course of their careers. That experience shows in their safety performance and reputation. They've been awarded CRST Team of the Year multiple times and are dedicated to driving excellence.
Beth and Tim primarily operate in the East-Central and Northeast U.S. They transport high-risk, high-value products with the Pharma division, which requires a lot of responsibility. They're currently on the dedicated COVID-19 team and are proud to be involved with this critical logistics process. "We love it! It's an honor to be part of something bigger than yourself," said Tim.
The team is immersed in nearly every stage of the vaccine delivery. The process starts with picking up and delivering individual ingredients to the manufacturer. After the vaccine is produced, it's super-frozen and transported in special trailers to another facility, where it's temporarily thawed and stored in vials. Then it's taken to distribution centers where it awaits delivery to medical facilities for patient use.
By all accounts, Beth and Tim enjoy working as a team. "I love the security and companionship. Tim encourages me and can teach me a better way if I'm not sure how to do something," Beth explained. But Tim quickly set the record straight, "She's 100 percent her own person and a very strong driver."
Both drivers have worked for multiple trucking companies and have positive things to say about their experiences with CRST. "This is my fifth company and the best one I've worked for," said Tim.
The dedicated team lives by one motto: customers are the number one priority. "They have other choices. We have to make ourselves stand out with great service and thank them for choosing CRST," Tim adds. "Customer service is what we do. We can't fail!"
A great attitude from a great team! Thank you, Beth and Tim, and the entire CRST driving team.
Recent Post
---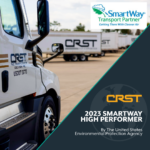 ---
---
---
---