January 20, 2023
Sleep Tips for Truckers: Fall Asleep Quick & Easy while on the Road
Drowsiness is a condition that impairs a driver's alertness, perception, and reaction time. Drowsy driving is a major cause of crashes. If you're a tucker traveling overnight frequently, you know how difficult it can be to get a good night's sleep. Here are some sleep tips to help you fall asleep quickly and easily the next time you're on the road:
Avoid caffeine before bedtime.
When you spend many of your waking hours driving, it can be tempting to splurge on a coffee or your favorite soft drink, however, you should avoid caffeine before bedtime. Some individuals are more sensitive to caffeine than others and may need to stop consuming it earlier in the day than others who are less sensitive.
Caffeine is a stimulant that can stay in your system for up to 10 hours after consuming it. When you consume caffeine late in the day, it can affect your sleep by causing insomnia or disrupting your circadian rhythm (your body's internal clock).
Follow an "on the road" nighttime routine.
The importance of having a nighttime routine can't be overstated. It doesn't matter if you're a morning person or a night owl, a routine helps put your mind at ease, which helps prepare you for a better night's sleep.
Having a nighttime routine can help truckers' bodies and brains understand that it's time to go to sleep soon. Sleep routines help people maintain a healthy circadian rhythm, or internal clock, making it naturally easier to fall asleep when you're supposed to and stay asleep.
Block out light & sound.
Avoid bright lights and noise as much as possible. The blue light from electronic devices such as smartphones and tablets may disrupt your body's natural sleep-wake cycle by suppressing melatonin production. To avoid this effect, turn off all electronic devices at least one hour before bedtime or use red screens on them so that they don't emit blue light which has been proven to suppress melatonin production.
Consider investing in ear plugs or a sound machine so the white noise can block out any sounds from outside of your semi. Many truckers also invest in blackout curtains or window covers to help sleep more sound.
Turn your phone on do not disturb and move it away from your head/bedside.
You don't want your sleep interrupted by messages in your group chat, likes on your month-old social media posts, or an update on your podcast download queue. It's been proven keeping your phone near your bedside and having your notifications turned on leads to sleep disruptions. If you're not a smartphone wiz, don't sweat. Check out these instructions on how to shut off notifications on different gadgets and apps and consider setting your phone at least 6 feet away from you while you sleep.
Invest in quality bedding.
It may seem frivolous to splurge on that memory foam pillow or that down comforter, but sleep is an essential component of your overall health. If you have no qualms with paying for gym memberships or buying fresh produce, you shouldn't have any with spending a little extra money for the better-quality bedding. Sleep deprivation can lead to a laundry list of physical and mental health problems, and driving drowsy puts your safety, as well as others, at risk. It's simple: you have to make your sleep a priority, or it will have negative consequences. Lack of sleep really can cause all sorts of problems down the road, and at some point, they will catch up with you. So, when you're driving to your next destination, keep these sleep tips for truckers top of mind.
Recent Post
---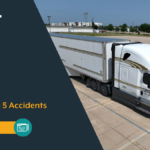 ---
---
---
---