February 25, 2019
Setting the Pace With Patience and Discipline
In the male-dominated trucking industry, Heather Salas – one of the many outstanding women at CRST – has had to occasionally prove she can do the job. She does so with patience and discipline that she learned in the military.
"Some men think women need help doing anything physical. I like to prove them wrong," Heather said.
That discipline is paying off. The Louisville, Kentucky, driver was named second runner-up for City Driver of the Year in Louisville last year. Heather is the first female driver at Pegasus to receive such an award.
Pegasus is the CRST operating company that specializes in temperature-controlled, just-in-time deliveries. Heather, who has been with the company for more than five years, is a city pharma driver. She delivers pharmaceuticals, from cancer drugs to controlled substances.
Love of Trucking Started in Military
After high school, Heather joined the U.S. Army, where she drove a fuel truck. That's where her love of truck driving was born.
She recalls that while stationed in Korea, she would drive the large fuel trucks up and down narrow mountain roads, with a sheer mountain face on one side and a drop-off on the other. It was the biggest challenge she had ever faced.
That experience, plus the patience and discipline she learned in her five years of service, have made her the safe driver she is today.
Heather was honorably discharged after her five years of service but continued to travel with her husband, who remained enlisted for another 15 years. She always knew she would get back into truck driving. Once they settled down in Louisville, Heather obtained her commercial driving license and started her career in trucking.
The best part of truck driving for Heather is the gorgeous views – sunrises, sunsets and back-country roads, which remind her of time spent as a child on her grandparents' farm.
A Chain of Strong Women
When asked about being a role model for young women in trucking, Heather said it's important to have a positive attitude and integrity.
"Be a leader. Don't sit around and complain. Do what you got to do, so you get home safe at night and everybody else does, too," she said.
Heather's greatest role model was her mom, who worked multiple jobs after the death of Heather's father to take care of Heather and her two older brothers.
"She never complained. She did what she had to do to keep the family together," Heather said. "I pray I can be half the woman she was."
Heather's mother has since passed away, but her legacy is the strong, independent woman her daughter is today.
To women starting their career in trucking, Heather encourages them to be patient and disciplined, too.
"You can do trucking. There's nothing a female can't do. Don't get intimidated. We need more females."
Recent Post
---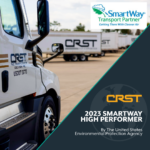 ---
---
---
---