September 27, 2023
CRST Spearheads Refrigeration Equipment Replacement for Major Retailer
When one of the world's biggest big-box retailers needed to replace refrigeration units in thousands of its stores in the U.S. – with minimal disruption to its customers – they called CRST for help.
A Large-Scale Challenge
With thousands of stores across the United States, refrigeration equipment replacement at numerous stores simultaneously is a big job with even bigger requirements, such as:
• Managing swaps for equipment at varied stages of the life cycle
• Completing replacements for up to 125 stores per month
• Minimizing the disruption to shoppers
This multi-year project required persistent coordination, agility, and precision at every step of the process.
Why It Worked
Thanks to CRST's expansive network, experienced teams, scalable tools and national footprint, we had an established platform for successful large-scale refrigeration equipment replacements.
In addition to our robust infrastructure, CRST's extensive expertise in managing large and complex exchange projects, enabled us to develop a clear and efficient plan to execute the entire project successfully, meeting rigid deadlines. To stay flexible with each location, every construction manager across the different regions operated independently and often took different steps as required to complete the operation.
Through ongoing communication and reliable execution, we established a strong and trusting relationship with our client.
A Unique Service Strategy
Over the past 12 years, CRST has become a trusted partner for this Fortune 100 retailer. To date, we have successfully delivered over 46,000 new refrigeration units to over 4500 stores. Our dedication to superior service and safety means we stay on top of the details, so our customers don't have to. A few of our accountabilities include:
Multi-runs over the construction project
Sourced short-term storage for goods 2-4 weeks prior to swap out
Full equipment order shipped to the warehouse (including parts and components for assembly)
Coordinate delivery team and installation team with the construction manager (non-store hours)
Dispose of the replaced units, including proper recycling and environmental disposal
Ongoing check-ins and status reports throughout the project cycle
Ready to Work with CRST?
For nearly 70 years, CRST has provided solutions to keep America's supply chain moving. We plan to continue that trend for decades to come through unmatched service and delivering on our promises.
Learn how CRST can support your business: https://solutions.crst.com/specialized
Recent Post
---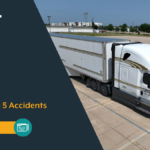 ---
---
---
---