August 22, 2023
CRST Wins Quest for Quality Awards from Logistics Management
CEDAR RAPIDS, Iowa (August 22, 2023) — CRST The Transportation Solution was announced as the winner of two, 2023 Quest for Quality awards for transportation service providers by Logistics Management Magazine. CRST won in both the Industrial & Heavy-Haul as well as the Van Expedited – Dry Freight categories.
Logistic Management's 2023 Quest for Quality poll is the most extensive of its type conducted in the transportation and logistics industry. Award recipients are measured on customer satisfaction and performance excellence and are rated on five key criteria: On-time Performance, Value, Information Technology, Customer Service, and Equipment and Operations.
"We are truly honored to receive these awards. It's not only a benchmark in our industry, but it's extra special because it is based on customer feedback," said Chad LaGrange, Chief Commercial Officer at CRST. "Providing the best customer service and delivering on our promises is our top daily priority, so it feels incredible to be recognized for our efforts in these areas."
The Quest for Quality research group received more than 3,500 total responses. To be a "winner," a company had to receive at least 10% of the category vote and achieve a total weighted score exceeding the average weighted score across all companies in that category.
"Every day, our team is focused on our customers and providing the highest level of service," added LaGrange, Chief Commercial Officer at CRST. "We couldn't be more appreciative of this recognition, and we are grateful that our clients hold our service and performance in such high regard."
Learn more about CRST's services and solutions at CRST.com.
Recent Post
---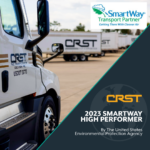 ---
---
---
---