June 28, 2021
Owner-Operator Spotlight – Matthew Haut
Matthew Haut was down on his luck. But a friend's advice led him to CRST.
The owner-operator had hauled for several other carriers in his two-decade driving career. But when money started getting tight, Matthew took a leap of faith that has paid off.
After talking to a recruiter and weighing the advantages, he signed up for CRST's Lease-Purchase program. Now Matthew's buying a truck while earning a paycheck—a decision he wishes he had made at the beginning of his career.
We're grateful to have Matthew and all our Owner Operators on Team CRST. Watch this brief video to hear more about Matthew's CRST success story.
Recent Post
---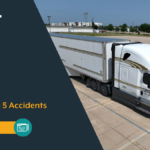 ---
---
---
---