June 17, 2021
Owner-Operator Spotlight – Becky Brockman
They say experience counts. Well, Becky Brockman has accumulated a lot of it!
Becky began her trucking career in 1979 in Ft. Wayne, Indiana. She and her former husband, Paul, drove cross country and accumulated thousands of miles and experience. It was unusual to see a woman driver at that time and she recalls a few interesting comments, "People would stop me and ask, where's your helper?"
Flash-forward 42 years. The industrious driver is now a multi-unit owner-operator for CRST. Becky manages seven drivers who operate primarily in Texas. Five are focused on final-mile delivery and the other two handle drop-and-hook service.
Becky's progression from driver to owner-operator has been a case study in perseverance. Her focus is centered on operating like a family-run business, "I care about my drivers, their families, and their needs. They're not just a number."
CRST's business model has contributed to Becky's success. "Few companies offer final-mile service and that's a big benefit," she explains. "CRST also stands out for its strong distribution network for sales and service."
Becky's advice to women, and anyone else considering a career in trucking, is a hearty, "go for it!" Wishing continued success to you and your team, Becky!
Recent Post
---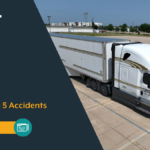 ---
---
---
---