November 14, 2023
Drivers: Open enrollment is here! Don't miss this window to Enroll in 2024 Benefits
Open enrollment for CRST benefits opens on November 1.

To enroll in coverage starting January 1, 2024, you must enroll by November 17. You'll have to wait until next year's open enrollment if you miss the Nov. 17 cut-off date. That's why it's essential to act before Nov. 17 to enroll in—or change—a plan.
Here's what you need to know about your coverage with CRST. CRST cares about your well-being and your family's. We offer a variety of benefits to cover all aspects of your well-being, including medical coverage, financial education and more.
Who's eligible for benefits? Employees who work 25 or more hours per week can take advantage of benefits beginning on the first of the month, following 60 days of employment. That's why it's important not to miss the open enrollment window if you haven't already enrolled or want to make changes.
Your family can benefit from your health benefits, too. Your benefits from CRST can also be good for your family's health. Your legal spouse can take part if they don't already have medical benefits offered by their employer. Dependent children under 26—natural born children to the employee or the employee's legal spouse, legally adopted children, children for whom the employee assumes legal guardianship and stepchildren can enjoy health benefits under your coverage.
We're proud of the health benefits we offer through Wellmark® Blue Cross Blue Shield—including a Major Medical Plan and Doctor on Demand. Wellmark was named Top Insurance Company in three Best of the Best lists and earned a five-star rating from the Centers for Medicare & Medicaid Services (CMS) for health plans, which rates providers for quality. So, CRST employees are in good hands! Plus, we offer a Health Savings Account, 401K, and more. At CRST, we want your driving career to be the best it can be—for you and your family.
So don't wait!  Check your email for more information about open enrollment from HR today, or call 866-934-4895.
Recent Post
---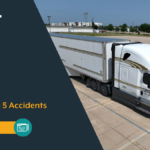 ---
---
---
---