May 17, 2021
Team truck driving is a popular option for older couples
Thousands of older men and women enter the trucking industry every year. In fact, the average age of an American truck driver is around 50 years old.
It's fairly common for people in their 50s and 60s to get their CDL and start driving. Many older people truck once their children have grown up as a way to make extra money while sight-seeing and traveling.
In many cases, older couples will leave other jobs or take up trucking after retirement and choose to operate as a team. This allows both spouses to work together, enjoying quality time with one another while getting paid for it.
Because team members can take over for each other, teams can usually make long hauls in less time. In some cases, teams can earn bonuses that push their salaries up to six figures.
You get to take the wheel
As you get older, you may be more interested in controlling your destiny — both in and outside of work. Working together as a trucking team, you and your spouse will have a route you have to follow, but you get to have a say in the route you drive — as long as you follow your chosen route and keep your commitments, you are in control. Feel like having a long meal? That's your choice. Want to pull over and catch up on the latest episode of your favorite Netflix show for a bit? Again, it's up to you as long as you stay on schedule.
Are you ready to hit the road together?
As a driver for CRST Dedicated Services, you know you can count on the support of a large corporation with the feel of a small company. We respond quickly to your every need. Our drivers receive more support than with any other carrier.
View our current job openings by clicking here.
Recent Post
---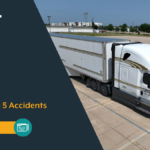 ---
---
---
---