May 16, 2023
Trucking Safety Tips: Navigating through Summertime Traffic
Howdy fellow truckers! Summer is right around the corner, and that means it's time to talk about trucking safety tips for navigating through summertime traffic.

Summer traffic can get hectic; folks are going to begin hitting the road for vacations and going on those nostalgic summertime cruises with their windows down, blasting their favorite tunes. In fact, the US travel and tourism sector is set to reach a record-breaking high this year, according to a recent report. So, as truck drivers, we need to be extra cautious on the road during this busy season.

In this blog post, we'll discuss some safety tips to help truckers just like you navigate through all of that increased traffic and be prepared for any of the summer safety situations you might encounter. Let's get started!


Prepare for an increase in traffic
One of the key trucking safety tips for the upcoming summer will be to prepare for increased traffic. Summer travel is synonymous with congestion, so be prepared for slower-moving traffic, frequent stops, and impatient drivers. This year the United States is expected to see a record-breaking surge in travel and tourism. No matter what part of the country you truck in, you can expect to see an increase in traffic on the road soon. Patience and alertness are your best friends during these times. Keep a safe following distance, and always signal well in advance before making a lane change.


Strategically plan and schedule your route
To avoid the worst of summer traffic, plan your route and schedule strategically. This may involve traveling during off-peak hours, avoiding popular tourist destinations, or using alternative routes through your GPS. Keep an eye on traffic reports and weather forecasts and adjust your plans accordingly. The extra effort will pay off in smoother sailing and reduced stress on the road.


Stay cool and hydrated
Driving a truck during the hot summer months can take a toll on your body. Make sure you're drinking plenty of water, even if you don't feel thirsty. Ideally, keep a few bottles of water always stored in your truck. Dehydration can lead to dizziness and impaired judgment, which are the last things you want when navigating heavy traffic. And don't forget to keep your truck's air conditioning system in tip-top shape. The last thing you want is for your A/C to go out when you're driving your truck in scorching temperatures. So, look at your coolant and test out your truck's A/C before hitting the road.


Be extra cautious in construction zones
Summer is construction season, so expect to encounter road work and detours. Slow down in construction zones and be prepared for sudden stops and lane changes. Pay attention to signs and flaggers, and always follow the posted speed limits. Keeping a watchful eye will help you avoid costly fines and, more importantly, ensure everyone's safety. Take a look at the DOT (Department of Transportation) website for each state you'll be driving through. This will help you prep for any road construction, allowing you to prepare accordingly ahead of time or find an alternative route.


Watch out for motorcycles and bicycles
Warmer weather means more motorcycles and bicycles on the road. Keep an eye out for these smaller, sometimes harder-to-see vehicles, especially when changing lanes or making turns. Use your mirrors and blind-spot indicators to ensure the coast is clear before making a move.


Stay well-rested and focused
Long hours on the road can lead to fatigue, which is a major cause of accidents. Make sure you're getting enough rest and taking breaks when needed. Pull over for a power nap or a quick walk if you're feeling drowsy. Staying alert and focused will help you navigate through heavy traffic and keep everyone on the road safe. Bring a good pair of sunglasses and sunscreen to protect your eyes and skin. Taking care of yourself while on the road ensure your safety and the safety of others.

Though some of these tips may seem like common-sense, it can be easy to miss something when you're navigating through summertime traffic and rushing to reach your next destination. The upcoming summer season promises an increase in traffic across the United States. Be thorough and create a check-list using these tips as a guide to ensure your safety, as well as the safety of others, while on the road; by following these trucking safety tips, you can ensure that you and your fellow drivers stay safe on the road.

So, buckle up, stay alert, and enjoy the ride! Interested in driving for CRST Dedicated? Learn more about our benefits by contacting a recruiter. CALL 866-271-1054!
Recent Post
---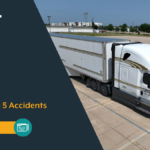 ---
---
---
---