September 26, 2023
National Preparedness Month: How to Prepare for Fall Weather Hazards
The weather can be unpredictable—no one has to tell you that. But you may need to learn how to prepare for fall weather hazards, including hurricanes, drought, wildfires, etc. The National Weather Service (NWS) believes you can never be too prepared, so they launched National Preparedness Month every September, which helps to raise awareness about the importance of preparing for disasters and emergencies that could happen at any time.  
It all started in 2021 when FEMA's Ready Campaign and the Ad Council produced the national preparedness campaign tailored to the Hispanic community. The ads centered around the "Latino community's commitment to personal planning for occasions and family milestones as a bridge to planning for disasters." Last year's campaign focused on the Black and African American community.
This year's campaign theme is "Preparing for Older Adults," preparing older adults for disasters as seniors are disproportionally affected by extreme weather events—especially if they live alone, are low-income, have a disability or live in rural areas.
Four safety tips for the road for the fall season
Whether you're simply driving to work or to visit family, or driving on CRST routes, the National Weather Service recommends the following: 
Remain vigilant after extreme weather passes. The storm may be over, but dangers remain, so stay clear of downed power lines and damaged buildings, and always avoid driving through floodwaters.

Take simple actions to protect yourself and your loved ones. If your community is affected by a drought, try to conserve water by turning off the water while brushing your teeth, watering your lawn less often, fixing leaks, or taking shorter showers. Also, look to your local officials for added guidance.

When encountering flooded roads or walkways, turn around, don't drown. The Centers for Disease Control and Prevention reports that over half of all flood-related drownings occur when a vehicle is driven into hazardous flood water. Most flood-related deaths are from walking into or near flood waters. Dangers can lurk below the water's surface, like erosion or collapse of the road surface. So never drive or walk through water or barricades and delay travel until it's safe.

Know the difference between an NWS Watch and Warning. A High Wind Watch means to be prepared, while a High Wind Warning means to take immediate action.
Bonus preparation tip: Know before you go!
Always check weather.gov for the latest weather conditions and alerts before you head out on the road.  Also, check out "5 Helpful Trucking Hacks for Driving with Rain" for additional trucking safety tips. 
Recent Post
---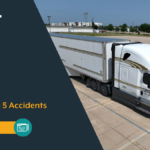 ---
---
---
---