January 08, 2019
Mission-Driven, Truck Driving Woman
After six years of working in a manufacturing facility building Club golf carts, Jan Wesby of Wrens, Georgia, set out on a mission to be her own boss. She wanted to try something new and also liked the idea of seeing something new each day.
"CRST had a truck driving school and a path to become an owner-operator," says Jan. "So that's what I did."
One million accident-free miles and 18 years after graduating from CRST truck driving school, Jan says she still loves her job and her CRST family.
CRST Family
"There are many people at CRST who are just like family to me," Jan says with a smile. "JC, our director of operations, has been like a father to me. JC and Heather are the reasons I've stayed with CRST for 18 years. They treat me like a member of their families and when my family needs me, they help get me home. My mother passed last year and my 99-year-old granddaddy this year; JC and Heather worked with me to take some leave. Other trucking companies that are not family owned don't seem to be so family friendly."
And Jan's CRST family grows by the dozens each year, because she is also a driver trainer for CRST's driver training program.
Team Driver Compatibility
Jan says team driver compatibility is very important and before a new driver trainee steps onto her truck, they have a talk to ensure they understand her rules of the road, the importance of safety and the realities of a trucker lifestyle.
"I offer to call the new driver's spouse to ease their minds about who is training them and for them to have a back-up number to call to reach their spouse while we're out on the road," said Jan. "I want them to know that I'm training their spouse how to safely come home to them and their kids."
Can-Do Attitude
Although safety is always at the forefront of Jan's training, she says she also needs to help instill some confidence in new drivers as they face challenges, noting it's better for them to try backing into a difficult spot with a trainer onboard.
"Watch the steps I take to put this 52-footer in there, now you try with my help," says Jan. "If I can do it, you can too."
Jan says she keeps in contact with many of her former student drivers and is always there to walk them through a challenge while out on the road.
Over nearly two decades, Jan has trained nearly 400 men and women to become professional truck drivers.
CRST thanks Jan for her years of service, dedication to developing the next generation of professional drivers and for being a CRST Woman of Inspiration.
Recent Post
---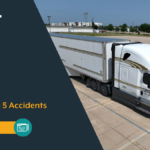 ---
---
---
---