May 09, 2023
Make Your Life on the Road Easier: Time & Money-Saving Trucking Hacks
Being a truck driver is a challenging feat. Truck drivers must have a few tricks up their sleeves, from long hours on the road to finding ways to stay entertained. Lucky for you, we've compiled some of the most exciting and innovative trucker hacks to help you make life on the road easier.
Use a Tension Rod to Hang Your Clothes
If you're tired of your clothes getting wrinkled in the cramped closet space of your truck, consider using a tension rod to hang them. You can easily install the rod between the walls of your truck and hang your clothes on hangers for a wrinkle-free closet.
Install a Swivel Seat if You Can
Sitting in the same position for hours can be tiring and uncomfortable. Installing a swivel seat can help alleviate discomfort by allowing you to turn and stretch your legs while driving.
Use a Magnet to Secure Your Phone
Don't risk your phone falling off the dashboard while driving. Instead, use a magnet to secure your phone in place. Attach a metal plate to your phone case and use a magnet to hold it on the dashboard.
Store Your Shoes in a Shower Cap
Keep your shoes clean and organized by storing them in a shower cap. Slip each pair of shoes into its cap and store them in a bin or basket for easy access.
Use a Tote as a Trash Can
Instead of using a traditional trash can, consider using a tote bag to collect trash in your truck. You can even line it with extra grocery bags you collect over time during shopping trips. Not only is it a cheaper choice, but it's also more practical and easier to store.
If you're short on cupholders, consider making your own. Attach a large binder clip to the side of your truck and use it to hold your cup in place.
Bring a Compact Roller or a Pressure Point Cane
Driving for extended periods can be tough on your muscles. Bringing a small, compact roller or a pressure point cane on the road can help you stretch and alleviate tension and sore muscles after long drives.
Use a Shower Caddy for Toiletries
Instead of trying to fit all your toiletries in a cramped space, use a shower caddy to keep everything organized. Hang the caddy on a hook or shower rod for easy access.
Make Your Own Air Freshener
Avoid expensive air fresheners by making your own using a clothespin and a few drops of essential oil. Add the oil to the clothespin and clip it onto a vent in your truck. One bottle of essential oil will last much longer than a single air freshener you buy at the store.
At CRST, we know that being a truck driver comes with its challenges, but we're here to support you every step of the way. From training and resources to tips and tricks, we're here to help you be your best truck driver and make life on the road easier. With these simple yet practical, trucker hacks, you can make your life on the road a little easier and more enjoyable.
Recent Post
---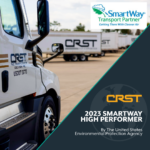 ---
---
---
---