August 15, 2022
Looking for Playlist Ideas?
Try Out these 8 Trucking Tunes on your Next Drive
When you're on the road as much as truckers are, certain songs can get stale pretty quick when you're shuffling through tunes for hours on end. In the same breath, there are some songs that just always seem to bring a smile to your face or connect you back to an old memory. Trucking tunes may liven things up.
If you're working on building a new playlist for your next long haul, consider adding some of these showstoppers to it. We tried to do a mixture of songs – but of course, when you're doing a top 8, you won't get to include EVERYTHING, but hopefully this list includes a song or two that make you dance in your seat or just sit back and think.
Without further ado, here are 10 trucking tunes to listen to while driving:
Yep, we started with an oldie – but a goodie! This blues-rock tune really does seem like a quintessential driving song for any long trip
This may be a lesser known, but still recognizable oldie. Some may have only heard this one in a commercial or a movie but give the whole song a listen if you haven't. It definitely gives off a sense of nostalgia. Yeah, we admit it, it's one of those songs that gives us the warm and fuzzies. No shame.
A classic trucking song from the perspective of a child of a trucker. This one will tug heavy on the heart but luckily ends on a high note.
This empowering melody is all about a young girl growing up to be a truck driver, just like her dad — and how 'if the boys still think they can outrun her, they should ask the greyhounds she's left in the dust.'
This 2016 trucking anthem truck driving anthem pays homage to all the "brothers of the highway" and "children of the wind" who earn their living delivering goods in every direction.
Sometimes a good trucking song is just a song that's centered around a truck. This little number brings out all the nostalgia of country summers gone past.
A spoken-word trucking saga that begins with a protest and ends with a convoy riding off into the night. The original by C.W. McCall hit #1 on the pop and country charts, becoming a national hit.
Though this song is definitely a somber one, it's a comforting tune about a grieving friend who finds comfort in driving his late friend's truck to help him reflect on their friendship and cope with his heartache.
If you're looking for more to listen to check out our recent blog recommending different trucking podcasts.
Recent Post
---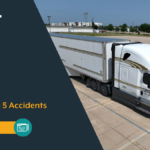 ---
---
---
---