September 13, 2021
Life of a New Driver – Shauna Lankford
She might be a new driver, but Shauna Lankford is no stranger to the trucking world. "I grew up on rigs. My dad was an OTR driver and took me on the road when I was still in diapers. My husband is an OTR driver, so it's something I knew I wanted to do at some point in my life," said Shauna. All of us at CRST are glad she did!
With her children grown and having already accomplished many of her career goals, Shauna decided to earn her CDL. CRST enrolled her in our partner program with the Driver Resource Center. Shauna attended MTC Truck Driver Training, in Hazelwood, MO. "The instructors were extremely helpful and encouraging. You get a lot of support there," added Shauna.
You would never know it now, but Shauna had to overcome some initial anxiety about her new career. "I was afraid I would make a mistake and hurt someone. Once I started with my mentor and got going, it was almost like second nature," explained Shauna. "From the very first time I got behind the wheel, I built up a lot of confidence from the support around me. I knew how a truck should feel and behave and second nature took over."
Shauna and her co-driver, Flynt Shaw, drive Teams for CRST Expedited. With so many carrier options, we asked Shauna the reason she chose CRST. "I targeted them. Not from reviews or ads, but from road reputation and what I personally saw. CRST has delivered on everything."
If you're looking for a new career, take Shauna's advice. "With good training, anyone can do this. I've been able to increase my income, and it's opened up a whole new set of opportunities and things I want to try within the industry."
Thanks for sharing your story, Shauna, and your dedication to Team CRST. We appreciate all our drivers!
Recent Post
---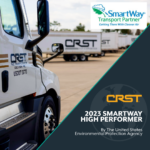 ---
---
---
---