August 27, 2021
Life of a New Driver – Jennifer Smith
Honk! Honk! These are the welcome sounds that greeted a little girl waiting for her dad to get home after a long day on the road. "It was very exciting to me," recalled Jennifer Smith. "So, when I got in the position to make a career change, I knew the trucking industry was the right choice for me."
Jennifer started driving for CRST in March 2020. As with anyone learning a new skill set, she was skeptical she could excel at a new career. But after going through training and gaining some experience, Jennifer quickly figured out it was a good move—just like her dad.
She chose CRST because they offered a variety of divisions and opportunities; something she didn't expect. The solo driver runs coast to coast for the Specialized division and says it's been great so far. "I love the wide-open spaces and not having anyone standing over my shoulder."
Another top draw for Jennifer is the company's culture. "The family-like environment is very important to me. I really do enjoy CRST and the opportunities they offer," she added.
The feeling is mutual, says Cammy Smith, Manager Fleet Administration/Driver Support at CRST. "Jennifer is accident-free and an awesome part of the Specialized team."
Jennifer encourages anyone searching for a good career to drive for CRST. "They have an excellent training program. It may seem intimidating at first, but stick with it! I guarantee it's the right position."
We love your success story, Jennifer. Find the right fit for your future at https://crst.com/driving-careers/.
Recent Post
---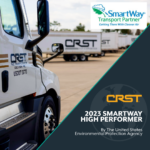 ---
---
---
---