June 22, 2023
LaGrega Joins CRST as Vice President of Final Mile Business Development 
CEDAR RAPIDS, Iowa (June 22, 2023) CRST has welcomed Arthur LaGrega to its Sales and Marketing team as Vice President of Business Development for Final Mile Sales. In this new role, LaGrega will be focused on growing CRST's final customer base and continuing the level of service customers have come to expect from the brand.
"We have had great growth in our Final Mile division since adding it to our solutions offerings in 2020," said Chad LaGrange, Chief Commercial Officer at CRST. "Arthur's focus on developing new business and strengthening trusted relationships will extend our franchise further."
LaGrega has nearly 20 years of experience in the transportation and logistics industry. Most recently serving as Senior Vice President of Last Mile Operations where he established standards and continuous improvement processes for all North America.
As one of the most diverse and complete transportation providers in the industry, CRST Home Solutions supports logistics and complex in-home installation and assembly services.
Recent Post
---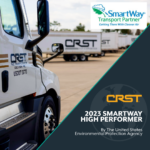 ---
---
---
---