November 29, 2017
Kimberly Maes Joins CRST International as President of CRST Logistics
Kimberly Maes Joins CRST International as President of CRST Logistics
 CEDAR RAPIDS, Iowa (November 28, 2017) – CRST International Inc., one of the largest privately held transportation companies in the United States, has named Kimberly Maes president of CRST's Logistics Inc.  Maes' hire is aligned with CRST's growth strategy for its logistics operating company.
Maes brings 20 years of transportation leadership experience to CRST.  Prior to joining CRST, Maes most recently served as president of Swift Logistics LLC. She has held progressive roles in various leadership capacities, including global logistics, network planning and finance for Schneider National Inc. and Gateway Inc.
A graduate of West Virginia University with a bachelor of science in business administration, Maes majored in accounting and finance. She started her career as an auditor for KPMG, gaining 10 years experience in audit accounting for various organizations and industries.
"Kimberly's experience with multiple large customers in several industries honed her financial acumen and created a foundation for a successful transition into transportation leadership," said CRST International COO Hugh Ekberg. "She has built successful logistics and brokerage businesses within large asset-based companies. Kimberly has the proven results and know-how to leverage business analytics to generate profitable growth. We look forward to the positive impact Kimberly's leadership and experience will bring to our customers and our team."
About CRST International Inc.   
CRST International Inc. is one of the largest and most diversified transportation companies in the United States, with projected 2017 annual revenues in excess of $1.4 billion. Through its eight operating companies, CRST provides a broad array of transportation solutions, including expedited van, flatbed, dedicated services, brokerage, transportation management, high-value product white glove moving services and drayage and warehouse services.
CRST's operating companies are made up of CRST Expedited, Inc., CRST Malone, Inc., CRST Dedicated Services, Inc., CRST Logistics, Inc., CRST Specialized Transportation, Inc., BESL Transfer Company, Pegasus Transportation and Gardner Trucking, Inc. It employs more than 8,000 company drivers, independent contractors and office personnel across the nation. For more information, visit http://www.crst.com or call (800) 736-CRST (2778).
Recent Post
---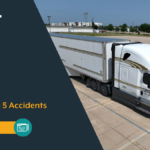 ---
---
---
---