January 02, 2020
Keeping our Women Safe
As we embark on a new year, I can't help but reflect on the many stories we have shared with you about the tremendous talent we have at CRST. In this blog, we've highlighted 18 of our female driving partners and administrative staff – covering everything from their 'Words of Wisdom' – (both on the road and in our offices and shops), to 'life stories' they were proud to share. Each of these women had a deep sense of pride and loyalty, both to the industry and to CRST. As we've talked with these women, it became abundantly clear they wanted to pass along their 'best practices' and 'life lessons' to their fellow female drivers on the road. Out of this exercise, we did further research with assorted women safety blog sites, as well as the Women in Trucking organization. All of this culminated into a launch of several Focus Group meetings last month, where we encouraged female drivers to join us for a series of discussions on best practices. What we learned was that there was an overwhelming amount of positive feedback and discussion on how to stay 'safe' on the road, as a female driver in a male dominated industry.
I'm proud to share an outcome of those efforts: in December we launched a Women Safe initiative (starting initially with new female drivers with our Expedited Solutions team driving fleet). The Women Safe initiative is a supplemental orientation session, conducted by one of CRST's HR professionals. All of the content was generated by our female driving partners who participated in the Focus Group meetings last year.
Examples of some topics covered include:
Street Smarts: Safety Best Practices on the Road
Advice from Your Fellow Female Drivers
Having a Successful Driving Experience
Recommendations for a Safety App called Red Panic Button
Reminders about 'who to call' to ask for help
Self Defense Videos
Bystander Training
Some of the advice shared by our female driving partners:
"Put your head on a 'swivel' – Always be looking side to side"
"Don't walk with your head down – Give off an air of confidence"
"Don't wear ear buds and leave your phone in the truck – have ALL of your senses available to sense danger"
"Walk In – Walk Out – Take care of your business at truck stops and fueling stations and get back in the truck"
"Be smart, use common sense – Most bad situations are avoidable"
"Rather than yell 'help' if it's needed, yell 'FIRE' – it draws more attention to the request"
Our female driving partners have shared many great stories, feedback, life lessons and best practices with us. We are looking forward to continuing the ongoing feedback and will continue to keep you updated on next steps with this new initiative.
Brooke Willey, VP – Human Resources
Recent Post
---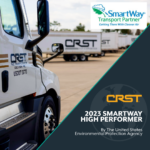 ---
---
---
---