September 20, 2016
Hugh Ekberg Appointed Group President/Chief Operating Officer of CRST International Inc.
FOR IMMEDIATE RELEASE
CEDAR RAPIDS, Iowa (Sept 20, 2016) – CRST International Inc., one of the largest privately held transportation companies in the United States, has named Hugh Ekberg group president/chief operating officer. Ekberg's appointment was part of a long-term plan to support the significant growth CRST has experienced, and will continue to experience, through both organic and acquired growth.
Ekberg brings over 25 years of strategic business leadership to the CRST family of companies. Prior to joining CRST, Ekberg served as president – Kitchen & Bath Americas for Kohler Company. Founded in 1873 and headquartered in Kohler, Wis., Kohler Co. is one of America's oldest and largest privately held companies. Prior to Kohler, he was division president and a board member at Weitz Company, a full-service general construction and design-build firm based out of Des Moines, Iowa. Prior to Weitz, Ekberg was with Hirsh Industries and served in various progressive roles, including executive vice president of operations, chief operating officer and president of this West Des Moines, Iowa-headquartered manufacturer of consumer and commercial storage products.
Ekberg holds a Master of Science degree in engineering management from Northwestern University's McCormick School of Engineering and an MBA in marketing and organizational design from Northwestern University's J.L. Kellogg Graduate School of Management. He earned his bachelor's degree in mechanical engineering from the Massachusetts Institute of Technology. Ekberg is a board director for the Pella Corporation and a member of Northwestern University's Advisory Boards for the Master of Product Design and Development Management Program and the MMM Program.
"Hugh's wide-ranging experience in multiple industry verticals fits nicely with the needs of our diversified operations," said Dave Rusch, president and CEO of CRST International. "He has extensive expertise in corporate strategy, leadership, multi-site management and strategic growth. We're thrilled to have an executive of his stature on the CRST team."
About CRST International Inc.
Cedar Rapids, Iowa–based CRST International Inc. is one of the largest privately held transportation companies in the United States. Through its eight operating companies, CRST provides a broad array of transportation solutions, including expedited van, flatbed, dedicated services, brokerage, transportation management, high-value product white glove moving services, expedited temperature-controlled team services, and drayage and warehouse services. CRST's operating companies are made up of CRST Expedited Inc., CRST Malone Inc., CRST Dedicated Services Inc., CRST Logistics Inc., CRST Specialized Transportation Inc., BESL Transfer Company, Pegasus Transportation and Gardner Trucking Inc.  For more information, visit www.crst.com or call (800) 736-CRST (2778).
Recent Post
---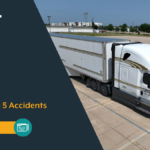 ---
---
---
---