September 19, 2023
Celebrating Drivers in Hispanic Heritage Month
Each year, we celebrate the colorful cultures, rich histories and diversity of the American Latino community during Hispanic Heritage Month, observed annually from September 15 to October 15. This year's theme is "Prosperity, Power, and Progress," recognizing the significant achievements of the Hispanic community in the economic and political industries.
Why are these dates for Hispanic Heritage Month? September 15th coincides with the Independence Day celebrations of Costa Rica, El Salvador, Guatemala, Honduras, and Nicaragua—followed by Mexico on September 16th, Chile on the 18th, and Belize on the 21st. Plus, within these 30 days isDía de la Raza, or Indigenous Peoples Day, celebrated in Mexico on October 12th. This month-long celebration is commemorated by festivals, art shows, conferences, community gatherings and much more.
The Hispanic/Latino community continues to play a significant role in trucking. Currently, 17.9% of professional truck drivers are Hispanic or Latino, which is growing. In 2019, Hispanic truck drivers numbered just 12% of the U.S. trucker population, over half of all the foreign-born drivers hauling in the country.
Here's another enlightening fact. Per the U.S. Census: Among younger truckers under age 35, more are women, Hispanic and more educated than their older counterparts ages 55 and older. Why the attraction to the truck driving life? One driver put it this way: You can choose where you want to go and when you want to work.
At CRST, we embrace diversity as everyone brings something extraordinary and unique. To date, 13% of CRST International employees are Hispanic or Latino. On a national scale, notable members of the Hispanic transportation community include:
Nuria Fernandez – the first Senate-confirmed woman of color and Afro-Latina to lead the Federal Transit Administration (FTA). Her appointment marked the latest step in a long and distinguished history of public service as a leader in public transit. Fernandez had her first stint in the FTA in 1997 as Acting Administrator.
Frederico Pena, Former Secretary of Transportation, began his career as a civil rights lawyer. He stood for Latino teachers and students in the first tri-ethnic desegregation lawsuit in the U.S. and drafted laws promoting bilingual and multicultural education. As mayor of Denver, Peña proved his commitment to public works and transportation issues. The freeway of the Denver International Airport is named in his honor for his efforts to build the airport.
Adriesue "Bitsy" Gomez grew up admiring truck drivers. Gomez, a single mother of three daughters, followed her heart and started driving professionally to support her family. In the 1970s, she founded the Coalition of Women Truck Drivers, a 150-member organization that challenged sexism and discrimination in the trucking industry. The group fought to increase the number of women's restrooms at truck stops and more. Throughout her life, she remained committed to making the trucking industry a safer and more inclusive space for women.
Join us in celebrating National Hispanic Heritage Month and the contributions of our friends!
Recent Post
---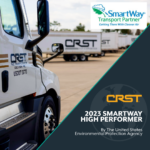 ---
---
---
---