December 04, 2019
Helping Train Next Generation of Drivers
Cynthia Bryan, a resident of Ferndale, Washington, used to do truck drivers' taxes. Today, she's a truck driver herself.
Knowing there was a shortage of team-drivers in the area — and with encouragement from her son, also a truck driver — she decided to get her CDL and get into trucking. In February of 2018, she started work at CRST as a team-driver, her first job in the industry.
CRST managers quickly identified Cynthia as a candidate for a lead driver role, and quickly thereafter a senior team-lead, or trainer.
"I like putting safe drivers on the road," Cynthia said.
It's All About Safety on the Road
Cynthia has been a trainer to many students, who spend 10,000 miles or 21 days in a truck with a trainer before they graduate to team-driver.
"My job is to make sure I am putting safe drivers out there. I make sure they are taking care of their equipment and also not hurting themselves or others," Cynthia said.
She teaches them the basics of safety.
"As a trainer, it's about making sure students know how to move over for traffic or merging into traffic, downgrade safely and backing into parking lots or docks when it's time to deliver a load," Cynthia said.
Cynthia's manager, Traelei Annett-Jaeger, describes Cynthia as organized and on top of everything. "Nothing ever falls through the cracks," Traelei said.
Cynthia enjoys her role as team-lead and especially enjoys her students' success.
"The most rewarding part of being a team-lead with CRST has been watching the students graduate and seeing how much better they are and being able to put safe drivers on the road," Cynthia said.
Traelei said Cynthia even stays in touch with her former students to offer support and ensure they're doing well.
Cynthia lives 10 minutes from the Pacific Ocean, in the top corner of the Pacific Northwest near the Canadian border. She has made cross-country trips many times. Her favorite stretches of road to drive are I-40 and I-80, but she appreciates the variety of experiences and that every day in trucking is different.
When Cynthia isn't traveling from coast-to-coast or in a truck with a student, she likes watching the Seattle Seahawks and NASCAR and is a member of the Ferndale Lion's Club.
Recent Post
---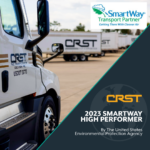 ---
---
---
---