April 19, 2018
Happiness Heals
Legend Nominee: Chanita Ward
This Legend driver comes to us from the city of Fort Smith; well-known for its cultural history, developed by some of the most infamous outlaws in U.S. history. As Arkansas' second-largest city, Fort Smith is a popular tourist destination spotlighting its Western heritage, while preserving the antiquity of the pioneers that brought their lands to life. The strong similarities this truck driver has in connection with her hometown is the rare purity and uniqueness in their existence.
Our featured truck driver is Chanita Ward, a lease purchase operator hauling flatbed for CRST Malone. With 12 years of experience and over a million lifetime miles to date, her professional career as a female trucker has helped pave the way for more women drivers to learn of the many opportunities available within the trucking industry.
Chanita's bubbly personality is honest and down-right infectious. Her smile can instantly light up a room and her personal journey will tug at your heart strings as she shares with us her recent battle with cancer. It was ultimately her love of trucking, along with her strong support system of family and friends that fueled her courage to keep pushing forward; past the pain, the suffering, the unknowing of the future, that the deadly disease causes in its wake.
Raised the daughter of a truck driver, Chanita's desire to explore the world started early in her childhood. By the age of 8, she was comfortable riding beside her father in his tow truck as he transported vehicles from one destination to the next. The second to oldest of seven children, residing in St. Louis, Missouri, Chanita describes her high school years as a typical teen. A natural athlete, she played softball and basketball, she was also on the color guard of her school's marching band. Once she earned her driver's license it was only a matter of time that her heart would set her on the same course to follow in her father's footsteps.
"I remember, as soon as I got my license, I wanted to drive everything and go everywhere. My dad is retired now, but when he would take me to work with him during the summers, those were some of my happiest times… in a truck, higher above the other vehicles around us, constantly on the move -it was the best feeling."
As a second-generation truck driver, Chanita carries on her family's tradition with her youngest daughter, Crystal. Currently a sophomore in high school, Crystal looks forward to their summer-time getaways, just as Chanita had with her father.
At the beginning of her trucking career, Chanita tried her hand at driving over-the-road. While away, her mother stepped in and helped with her three children: Terrill (24), Tarnell (21), and Crystal (16). She continues, "I think my kids, especially the older two, lost out on the time I had before I started driving a truck for a living. They didn't have their mother at home full-time anymore. That was a huge sacrifice that was extremely hard for me as a mom, because my kids mean the world to me. My mother did a lot for me and all of us while I was gone." Unfortunately, for Chanita's tight-knit family, her mother was diagnosed with lung cancer and passed away last year. She adds, "Witnessing her determination during those tough days is where my willpower came from. I found my courage in her and the will to resist failure during my own battle with cancer."
Chanita landed her first driving position with a trucking company running long haul for their van division, after completing their truck driving school. After six months, she transferred to their flatbed division and everything fell into place. The physical challenges and exact precision incorporated in hauling flatbed fit right in her wheelhouse. She says, "I love flatbed trucking because it keeps me active. I absolutely love my job! I don't know what I would do if I ever stopped driving a truck. The change of scenery in a day's work is refreshing. Meeting people and making new friends comes with the territory, but you have to be willing to put in the hard work." To succeed as a professional truck driver, Chanita states that it all goes back to a person's work ethic.
---
In 2013, while on the job, Chanita suffered a minor fluke accident that led to the discovery of a bruised lump on her breast area. A month later, unable to lift her left arm, she contacted her physician to schedule a mammogram and biopsy of the mass in question. She was quickly reassured that the growth would be easily removed and not to worry any further until the results were available, that alone relieved her fear of the unknown. At least for the time being…
Informed of the unexpected discovery, her husband, Daniel called Chanita at work to relay the doctor's diagnosis. Breast cancer. The following days turned into weeks, weeks turned into months. The whole process took effect so fast, yet the physical and mental suffering lingered daily with unyielding mercy. September 4th, 2013, Chanita's surgeon performed a lumpectomy to surgically remove the malignant tumor. Once well enough to undergo further treatment, she started chemotherapy that October. She endured the regimen of chemo treatments for an entire year, only to be followed by 45 additional rounds of radiation, over the course of nine consecutive weeks.
After speaking with Daniel, the tenderness in his voice as he explains how difficult it was standing beside his wife, watching her literally fight for her life, is a situation no husband can prepare for. "I kept telling her over and over, everything is going to be okay; we will fight through this together. When she lost all her hair, I cut all of mine off too. That woman means everything to me! We've been through a lot together, and I knew cancer wasn't going to stop us either. It slowed Chanita down for a bit, but not for long. Not my wife! She's too strong of a woman to stay put for too long," he said.
Two weeks after her final round of radiation, Chanita returned to work. She started on light duty for a couple of months, running refrigerated freight. Eight months out, she felt confident enough to go back to pulling flatbed. Being home for so long had lit a fire under her, the distant roads were beckoning. Constantly reminding herself of the moments when she laid in recovery, unsure if lifting a single tarp would even be an option again; as a cancer survivor, she poured every positive thought, all the love she has for her family, and continued to grow stronger by the day until she was back healthy. She restored her pain with hope. By focusing on her happiness, she found healing, from the inside out. The happiness and joy that Daniel and their loved ones share with Chanita in her victory is pure magic. The road to recovery was a long and bumpy journey, but her positive mindset persevered.
---
Chanita first started with CRST Malone back in 2016 and continued with the company for almost a year before her mother fell sick. She made the move to running local work to be by her side. After she passed, Chanita knew that her mother would have wanted her to do what she loves most -she picked up the phone and made the call.
"I came back to CRST Malone the day after New Years and they welcomed me with open arms. I love the fact that they treat you like family. They allow you to set your own work schedule and if you need help with anything, they do everything in their power to help. They see to it that you have all the tools needed to be successful in your trucking career. Your success is their success, like family."
Chanita is back to pulling flatbed hauling pipes with her 2016 Freightliner Cascadia. Her five-year plan includes a small fleet of 3 to 5 trucks with a few drivers under her wing. Daniel enjoys traveling with Chanita, so much so, he is considering getting his own CDL. Settling into opposite roles, with the wife away at work while the husband is left to 'man the fort' as a married couple they find balance through communication and being present during their days spent together. They enjoy bowling, catching up on family time, and most of all, playing with their grandson, Marquis. She says, "He is the joy of my life! He's three and our only grandbaby. We try to get him on the weekends as often as we can. He keeps us young and fun."
Awards such as Driver of the Month with previous companies, Chanita gives credit to her driver trainer whom she was paired with at the start of her career, transporting dry van trailers. She was taught the importance of attention to detail and holding one's composure while in possession of the wheel. "I've never shied away from driving large trucks, but when I first got into trucking, I remember thinking -Wow! I'm really doing this! And then reality hit as I'm driving myself and my driver trainer straight down a mountain covered in snow. It was his ability to keep me calm and to trust myself at that very moment that serves as a reminder to this day; as long as you pay attention to your surroundings, remain patient and breathe, and not let the cars behind you dictate your speed, then you can make it through any situation."
Chanita states that the reaction she receives when asked of her profession, typically leads to more questions. One of the most common being: "Isn't flatbed too hard for you?" Again, being an independent woman in a workforce prominently operated by the opposite gender, she gladly accepts any given challenge to prove her equal value as an individual. Through her resilience in the fight to return to the trucking industry, Chanita represents a body of people that serve our great nation day in and day out; a group of dedicated men and women that provide a selfless service for the survival of our economy. Like every professional truck driver, past and present, their sacrifices are many, though most continue a lifetime without the recognition deserved.
CRST Malone acknowledge their drivers' achievements and choose to build each relationship upon respect and trust. To contact a driver recruiter and start your journey with the CRST Malone family today, call: 866-602-1676.
"I smile all the time, I can't help it. I'm thankful and grateful! I praise every day for this life the good Lord has given me."
-Chanita Ward
Recent Post
---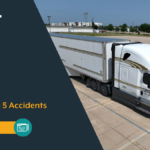 ---
---
---
---