October 20, 2022
CRST Announces $1.25 Million Gift to Mount Mercy University
CEDAR RAPIDS, Iowa (Oct. 20, 2022)—Mount Mercy University is pleased to announce a transformational gift made possible by the philanthropic foresight of CRST The Transportation Solution, Inc. CRST owner and board member Dyan Smith is a member of Mount Mercy's Board of Trustees.
The $1.25 million gift will support the growth of Mount Mercy's computer science and data science programs through the new, state-of-the-art CRST Data Intelligence Lab, student scholarships, a faculty position and related programming.
"CRST's vision and commitment to Mount Mercy will impact our students—and the greater Cedar Rapids community—for decades to come," said Dr. Todd A. Olson, Mount Mercy's president. "We are incredibly grateful for their generosity."

The lab is located on the top floor of Mount Mercy's Basile Hall and features a virtual reality area, robotics equipment, 3D printers, collaboration spaces and other new technology.

"CRST is committed to strengthening the technology workforce in the Cedar Rapids area," said Jerry Kilgore, chief information officer at CRST. "We're proud to support Mount Mercy in their effort to attract, educate and graduate students who are prepared and ready to tackle the complex problems of the modern business environment. We believe they can be an important source of technological talent in our community."
Beginning in fall 2023, CRST will also offer paid internships for Mount Mercy computer science and data science students, which will supplement renewable scholarships.

Mount Mercy's data science major launched earlier this year and focuses on mathematical foundations, algorithms, ethics, programming, and communication skills. Computer science students learn the theory and practice of the profession, how to work in groups to complete large software projects and appropriate ethical standards. Both majors are among the country's fastest-growing, highest-paid career fields.
Rinderknecht Associates and Solum Lang Architects partnered with Mount Mercy to renovate the lab, and the grand opening took place on Oct. 20.
To learn more about CRST, visit: www.crst.com
Recent Post
---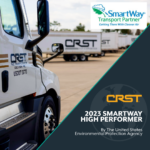 ---
---
---
---