October 13, 2023
Five CRST Employees Recognized at Iowa Motor Truck Association Awards
For over 80 years, the Iowa Motor Truck Association (IMTA) has been a leading voice for Iowa's trucking industry and its more than 700 member companies. As part of its mission to elevate superior professionalism, safety, and service demonstrated by its members, the IMTA celebrates the "best of the best" in the industry at its annual IMTA Awards Banquet.
Congratulations to our CRST Winners!
Last month, IMTA honored five individuals from CRST with IMTA awards in Des Moines. After meeting specific criteria for each category, the recipients were selected through a nomination process. Each person received a cash gift and a trophy at the event.
Ben Buelow – Nominated for Professional Dispatcher
"Ben genuinely cares about his drivers and their success. He takes the time during phone calls to ask his drivers how they and/or their families are doing and builds those relationships in these conversations. He explains his expectations of the drivers when discussing their load plans and holds the drivers accountable for their performance. Ben is very thorough and consistent with his follow-ups with his peers and drivers. Ben strives to be a top performer, and his fleet and drivers reflect that dedication."
Jerry Dickson – Nominated for Professional Dispatcher
"Jerry comes to work every day with the attitude of how he can make the driver's job easier. Even though Jerry is an after-hours driver manager, he treats all the drivers he oversees like they belong to him. Jerry not only makes sure the drivers are taken care of but also the customers that those drivers drive for….When an issue does arise, Jerry's communication is phenomenal. He not only makes sure that the customer is notified of the issue but also lets them know what the possible solutions will be as well. Jerry is always communicating to leadership and co-workers on ways that he sees we can improve our processes to make for better operational excellence for our drivers and our customers as well.
Fituvalu (Fitz) Fiu – Nominated for Outstanding Professional Driver
"I believe Fitz is the most conscientious driver I have had in my 30+ years as a driver manager. All of his loads are on time, and every vehicle, truck, or trailer gets a close look every day. Fitz should be commended for his constant vigilance to safety and vehicle maintenance. He is polite to everyone. I don't know if he has ever been impolite. Ever! No matter what time of day or day of the week, I get constant info from Fitz on situations out on the road. Not only for me to help him but also for me to alert other drivers to what is going on out in the world. If I could clone Fitz 100 times, my life would be a lot easier."

Craig Mason – Nominated for Professional Dispatcher
"Craig shows so much compassion toward each and every one of his drivers. From a multi-year veteran of the trucking industry to a brand-new student who has never set foot on a truck, Craig is always there to help the driver in any way possible…Craig's drivers will text or call him anytime throughout the day/night, and he hops on to help them even if the issue arises after hours. Whether it is speeding, late deliveries, or accidents, Craig's first thought is how to retain the driver through proper coaching and training. With 23 years of industry knowledge and his ability to show patience when teaching a new skill, it was a no-brainer when we had to pick who would cover our mentor fleet…[His drivers say] things like, "Craig is the best driver manager I have ever had at CRST. He is there when you need him and treats you with respect.'"
Charlie Watkins – Nominated Master Truck Driver
"Charlie Watkins has been a professional driver for CRST for nearly 37 years and has not only the best attitude, compassion, and drive of any colleague that I have ever worked with, but he has gone that time without a preventable accident and covered over 4.3 million miles. Charlie's professional approach to his career as well as his relentless drive for safety puts him far and away beyond anyone that I have ever met in my life and in my career. He has participated in countless improvement efforts over the years, driven change within the organization and the industry by setting a very high standard of what we should expect and has done so with a smile and kindness to everyone he has ever encountered."
About the IMTA Awards
The annual IMTA awards program acknowledges individuals and companies who embody industry excellence and a high standard of professionalism. The IMTA recognizes companies and individuals in the following categories, with different eligibility requirements for each category:
Dispatcher Professional
Fleet Maintenance Program
Fleet Safety Program
Maintenance Technician
Master Truck Driver
Outstanding Professional Driver
Public Relations
Safety Advocate
Recent Post
---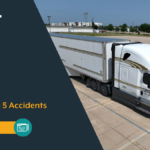 ---
---
---
---