November 21, 2023
Delicious Thanksgiving eats are just around the corner
In 2022 alone, truck drivers delivered more than 46 million turkeys for Thanksgiving—more than 15,000 truckloads. As for the sides and fixings, 80 million pounds of cranberries and 250 million pounds of potatoes were transported by truck. That's a whole lot of "delicious" for a whole lot of families around the country. But what about truckers' share of the good Thanksgiving eats? Although truck driving life can keep you far from family during the holidays, you don't have to go alone on Thanksgiving. A delicious Thanksgiving dinner awaits you at truck stops around the country—many FREE—and at popular restaurant chains!
FREE meal for every CDL holder! Boise Stage Stop—Idaho
Get ready for a feast at 23801 S. Orchard Access Road in Boise. The Boise Stage Stop starts serving at 10 a.m. until they run out of food. Get there early, and for every CDL holder, your meal is free!
FREE meal for every CDL holder! The Greater Chicago I-55 Truck Plaza—Bolingbrook, Illinois
Show your CDL and the meals on it! Have a passenger without a CDL? It's just $12.99 for their plate. Turkey and all the fixings are served from 9:00 a.m. to 7:00 p.m. at 510 South Bolingbrook Drive in Bolingbrook.
Johnsons Corner—Johnstown, Colorado
Stop by Johnson's Corner, north of Denver, in the Petro Travel Center at 2842 SE Frontage Road. Considered one of the best truck stops all year round, with world-famous cinnamon rolls and homestyle cooking, they'll be serving a fanciful feast of Thanksgiving eats!
Travel America & Petro—Nationwide
Many Travel America and Petro truck stops have full-service restaurants, including Iron Skillet and Country Pride. This Thanksgiving, they serve turkey, ham, dressing, yams, green bean casserole, cranberry sauce, pumpkin pie, and their usual soup and salad bar. The feast starts at 11:00 a.m.
Iowa 80 Kitchen—Walcott, Iowa
It's the world's largest truck stop with some of the best food! Iowa 80 Kitchen seats up to 300 guests, so park and dig into a delicious Thanksgiving feast. Also, take some time off lounging in the Driver Den, shopping for truck parts, getting a haircut, watching a movie, working out and showering. They've got it all at 755 W, I-80 in Walcott.
Fifties Diner—Chicopee, Massachusetts
Grab a great Thanksgiving meal at the Fifties Diner, 363 Burnett Road in Chicopee. Turkey, dressing, cranberry, green beans, and a few pie selections are on the menu. They're open around the clock with full-service showers and overnight parking.
Cracker Barrel
Cracker Barrel is famous for its homestyle comfort food and friendly atmosphere. Thanksgiving is no exception. The festivities start at 11:00 a.m., with favorite holiday favorites served piping hot, from turkey and dressing to sugar-cured ham, sweet potato casserole, biscuits, and pumpkin pie. You can even order a Thanksgiving meal to go.
Bob Evans
Bob Evans dishes out slow-roasted turkey throughout the year, making the restaurant an excellent choice for a Thanksgiving meal. Enjoy your turkey with mashed potatoes and gravy, dressing, cranberry relish, green beans, and a mouthwatering slice of pumpkin pie.
Boston Market
Boston Market may be known for great chicken, but its Thanksgiving dinner is equally delicious. Thanksgiving dinner features a choice of roasted turkey breast or half rotisserie chicken with mashed potatoes and gravy, vegetable stuffing, a dinner roll and a slice of apple or pumpkin pie. Restaurant hours may vary by location.
Golden Corral
Golden Corral's all-you-can-eat buffet is open this Thanksgiving from 11:00 a.m. to 7:00 p.m. Bring your appetite, and Golden Corral will do the rest. You can also order a holiday meal to go. The choices are practically endless. Between truck stops and popular chain restaurants, plenty of good Thanksgiving eats are on the table for Thanksgiving along your CRST route. From all of us at CRST, have a very happy Thanksgiving!
Recent Post
---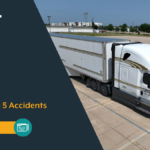 ---
---
---
---